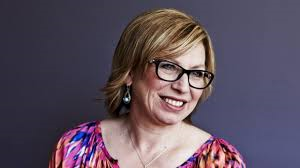 Parkes had a visit from a prominent domestic violence campaigner on invitation by CMOC-Northparkes Mines for their White Ribbon Campaign.
Founder of the Luke Batty Foundation and 2015 Australian of the Year Rosie Batty was invited to share her story with mine employees and further educate them on family violence.
"A session was also held in town with our first responders and emergency service providers to encourage discussion around how we as a community can continue to work together to prevent domestic violence," said Manager – People, Safety and Environment, Stacey Kelly.
Rosie also met with the local Family and Domestic Violence committees of Parkes, Forbes and Peak Hill to discuss ways they can support their local communities.
"It was a privilege to meet Rosie Batty and share in her passion to make a safer future for women and children," said Secretary of the Parkes Domestic and Family Violence Committee, Tina Nash. "As a community we need to work together to support victims and educate everyone on the warning signs and appropriate ways to respond. As a start it would be great if we could all be upstanders not bystanders."
Parkes Mayor Ken Keith OAM congratulated Northparkes on inviting Rosie, and said her moving story and important message of reducing domestic and family violence in our community were inspirational.