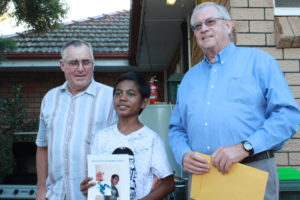 In early January Parkes opened its heart to thousands of different versions of Elvis, but some local residents also opened their hearts and homes to a very special young boy.
Eleven year-old Lujio Dos Reis Da Silva from Timor Leste was a very sick child. He had suffered damage to his heart valve from rheumatic fever and required urgent specialist treatment. Fortunately, he was referred to the Rotary Oceania Medical Aid for Children program (ROMAC).
ROMAC provides life-saving or dignity restoring surgery for children from developing countries which they otherwise would not be able to access. ROMAC flew Lujio and his mother Josefine to Australia so Lujio could undergo heart surgery at the Royal Children's Hospital. Parkes Rotary made a small contribution to Lujio's medi- cal costs, and became his sponsors.
During his treatment Luijo and Josefina stayed at the Ronald McDonald House in Randwick, however, once he had recovered enough the pair were invited to stay with their sponsors in Parkes.
Parkes Rotary formed a partnership with members of the Uniting Church to prepare for the visit. The Uniting Church has a strong connection with Timor Leste, and members from both Rotary and the Uniting Church generously provided practical assistance, helping with language barriers, and showing the family the very best of country hospitality.
Peter and Barbara Thompson drove to Sydney to collect Josefina and Lujio and hosted them for three nights. Lujio got to experience the simple pleasures of Australian farm life, which included catching yabbies in the dam.
Their next hosts Mel ten Cate and Beto da Silver speak Portuguese, which eased the language barriers for the remainder of their stay. Josefina and Lujio were treated to barbeques, had the pleasure of meeting Mayor Ken Keith OAM, and even got to experience the joy of the Parkes Elvis Festival.
By Raen Fraser