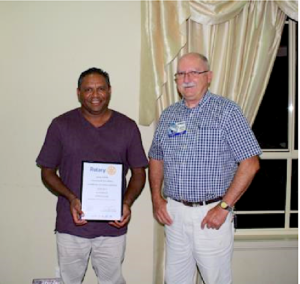 A well known Parkes teacher was a surprised recipient of a Rotary Award at the Rotary District Conference held in Orange recently. Parkes Rotary Public Relations officer David Hughes presented Lionel Lovett with a Certificate of Commendation for Vocational Excellence.
Lionel said the award was a bit of a shock. "Rotary invited me to the dinner, but I had no idea that I was up for an award," he said. "I thought I was going to be a guest at the dinner because I had made a small contribution to the Rotary project at the arboretum. It was one of those things that I like to be a part of, I wasn't expecting anything for
it," he said. Lionel is best known for his work with schools in Parkes, where he has been teaching school students Wiradjuri language, customs and history for more than a decade. He has previously been honoured with a Nanga Mai Award, and was named the 2014 Parkes Shire Indigenous Person of the year.
Lionel's skills are many and varied. Alongside teaching Wiradjuri, he coaches the Little Goannas dance group, works as an artist, performs Welcome to Country for official events, and is heavily involved in the Aboriginal Education Consultative Group. "I really love to be involved in projects, particularly when there's a cultural aspect to it, and aboriginal inclusion," he said. "But it's not just me, there's a lot of other people I work with who are also doing great work."
Lionel is currently planning the next project with collaborator Sean Cassidy. They envisage creating an indigenous art installation around the water tower on Bushman's Hill, which would incorporate the Aboriginal history and serve as an extension to the Wiradjuri Amphitheatre.
By Raen Fraser