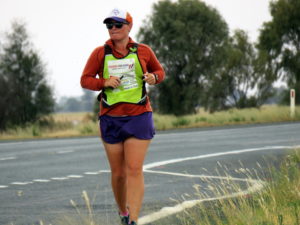 Early last week some people may have noticed a woman running along the highways between Forbes and Parkes, or between Parkes and Peak Hill, or Dubbo. Jenna Brook was passing through the Central West region of New South Wales as part of a 4,500km odyssey to start a conversation about bums, specifically to raise awareness about Bowel Cancer.
"80 Australians die every week from bowel cancer, making it our nation's second biggest cancer killer. If you talk to friends and family about bowel cancer, it is amazing how many have stories to tell," said Jenna.
"Bowel cancer is preventable, treatable and beatable. Treatment has a 90% success rate if detected early. Currently, only about 40% are caught in time." Jenna was spurred to commence her campaign, dubbed "Running for Bums", after learning these statistics.
Jenna's grandfather survived bowel cancer late in his life. The family took the matter seriously and openly discussed the issue. "I have grown up knowing that my risk is elevated. I've now had three colonoscopies since I was 25, as a preventative measure.
The doctors have removed 14 polyps as a result. The process is painless." "Many people are still too embarrassed to report symptoms to their doctors and push for screening. Still more people avoid discussing bowel cancer within a family setting because it seems undignified. However, the fact is that 1 in 4 people diagnosed have a family history of bowel cancer."
Jenna's journey began on 17th February from the southernmost end of Tasmania and will see her reach the tip of Cape York by early June, averaging more than 40km per day.
As at 27 March, Jenna has already travelled over 1200km and raised more than $20,000 for Bowel Cancer Australia.
For route information and donations, visit runningforbums.com.au.