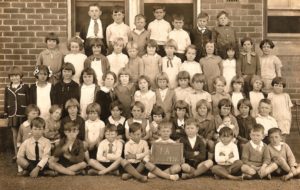 S For Sesquicentenary
It's been 150 years since the tiny Currajong School opened its doors in 1868, and this weekend the mighty Parkes Public School family will kick up their heels to celebrate this extraordinary milestone.
Parkes Public School will mark the occasion today and tomorrow to celebrate a sesquicentenary of delivering quality education for the Parkes community.
The program starts with the official celebration assembly in the hall today at 11:30am for families and friends, followed by a picnic lunch. At 3pm the celebrations hit full swing with a fair until 5pm with jumping castles, face painting, games and all sorts of activities, all for free!
On Saturday you are invited to relive your school days with a tour of the school at 10:30am or 11:15am. Knowledgeable guides will show you around to bring back memories of your time at the school, look at memorabilia, and see the massive changes that have been made in technology in the classrooms, some in buildings dating back to 1918.
You can either meet up with friends before or after the tour for High Tea in the Library from 10am until 12 noon. Wander through the display of trophies, photos and memorabilia that will certainly strike a nostalgic chord. You may even find your name or school photo.
Inclusive Nature Reigns Supreme
Parkes Public School was ahead of the curve – from its first days it embodied that conviction and has continued to do so serving its community for a century and a half.
The town of Parkes is famously named for the great statesman Sir Henry Parkes, Father of Federation, but when the tiny provisional Currajong School was established in 1868, Sir Henry had yet to visit the area.
It was also 12 years before the government passed the Public Instruction Act of 1880. The act would aim to make education free, compulsory and secular: it was based on the conviction that there should be equal educational opportunity.
Many things have changed since Mr Peacock first taught at the provisional public school in 1868: the rickety schoolhouse has metamorphosed to a school of 23 classes equipped with computers, interactive whiteboards, touch screen monitors and highly trained and educated professional teachers.
The inclusive nature of the original Currajong School of 1868 is still embodied in the 21st century with a rich learning environment in the spirit of harmony and tolerance.
The diverse school population of 435 students from a variety of backgrounds and cultural heritage will continue to not only live by the traditional school motto to Strive For Success, but also remain committed to the current vision statement of providing Quality Education for All.
The children in Kindergarten in 2018 will complete their schooling in 2030. Parkes Public supports all children with focused and flexible programs which respond to every student's needs. The school has invested in 21st century technology which has become part of classroom practice, rather than a novelty of using a computer.
The school is preparing today's students for life in an increasingly complex future.
The teachers at Parkes Public School are working hard to ensure that every child is equipped with the foundation skills of literacy and numeracy, as well as the content knowledge they need to grow as learners and thrive in the years to come.
Timeline of Events
8 Aug 1868 Currajong School opened with 13 boys and 15 girls, headmaster Edward Peacock, Council for Education bought the building for £25.
1870 Edward Peacock's married daughter, Isabel Cooke succeeded him with salary of £36 per annum; she later became the first Mayoress of Parkes.
Oct 1871 Isabel Cooke resigned and Currajong School was closed.
29 Apr 1872 School reopened with 28 students. Sept 1874 A site of one and a half acres was granted by the government on the corner of Hill and Bushman Streets.
1875 First building completed; first school on this site and was named Parkes Public School.
1880 Public Instruction Act made school attendance compulsory for children between 6 and 14 years.
1883 School overcrowded – enrolment 244 with 96 first class children in one room.
1911 Provision made for teaching of Science.
1916 P&C Association formed.
1 Jul 1917 Enrolment 460 and 10 teachers; separate Infant's Department established.
1933 Accommodation outgrown once again
1939-45 World War II brought difficulties in staffing as teachers enlisted.
Nov 1956 Enrolment reached its peak: Boys' Department 288; Girls' Department 245; Infants' Department 490; Total Enrolment 1023; Every class 40 or more students, with 3 classes having 49.
1958 School Library opened, the room is now used as the computer lab.
1961 Overcrowding not relieved by Middleton School opening, enrolment 990 pupils, class size in excess of 45.
1967 New girls summer uniform introduced by Ladies' Auxiliary and Mothers' Club.
1996 Administration Building built facing Currajong Street.
Jun 1993 Library and tiered learning space built.
2011 New hall, cola, canteen build on Infants site, plus new classroom and practical arts room on footprint of old assembly hall; 7 November Q Block opened.
Exceptional Programs And Sporting Success
The cultural heritage and variety of backgrounds of the over 400 students at Parkes Public School (PPS) make for a rich learning environment.
It has a small school feel as students learn and play on separate sites, yet have the advantage of large school opportunities in its academic, sport and cultural endeavours.
All children are supported with focused and flexible programs to respond to every student's needs.
We are justly proud of our Wiradjuri culture which is reflected in all we do. The Wiradjuri language program has become renowned across Australia and is internationally recognised as a leader in promoting and preserving indigenous languages.
All students at PPS learn Wiradjuri and we acknowledge that we learn and teach in Wiradjuri Country.
The school operates some exceptional programs. It has a very effective preschool to kindergarten transition program, called Parkes Public Preps. It is enormous fun for the children, but also provides an insight into the individual needs of incoming kindergarten students to help the school to be ready for the children, just as they are ready for school. Some of our key programs are Early Action for Success, which supports professional learning for teachers to continue to implement an evidencebased approach to individualised learning.
Along with the continuous focus on academic rigour, Parkes Public supports its students and staff through a school-wide focus on wellbeing. Positive Behaviour for Learning (PBL) and our commitment to the Stronger, Smarter program supports the social and emotional development of all our students and staff alike.
Despite being a smaller, regional school competing against large, metropolitan schools, throughout our 150-year history Parkes Public have enjoyed many successes on the sporting field at local, regional, state and even national stage. We have a long tradition of success with hockey, netball, athletics and swimming. More recently, PPS have been Western Region Champion School in AFL, rugby union, hockey, tennis and cricket. Individual students have also represented at regional, state and national level.
The cultural talent of Parkes Public is valued through performing arts and other cultural programs. The Parkes Public Choir perform at the NSW Public Schools' Choral Festival at the Sydney Opera House each year, as well as other community events locally and in the wider region. The Parkes Public musical productions have been a highlight of the school calendar for many years and showcase the immense musical and acting talent in each generation of students. Participation in dance groups, band, choir and recorder group are encouraged and are features of our performing arts skills.
At Parkes Public School a lot of work is put into ensuring every child is equipped to grow to their full potential.