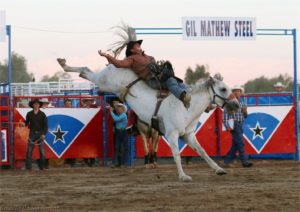 If you are after some thrill and excitement this weekend, the third Steve Magill Earthmoving Parkes Rodeo Stampede at the Parkes Showgrounds is on a trajectory to provide even more knock out performances than before.
In March 2017 the event produced one of the greatest wrecks in International Rodeo Clown Matt Darmody's 15-year career when the veteran bullfighter was flung in the air by one of the meanest bulls on the rodeo circuit. Last year the explosive performance of "Walter Whip and the Flames" lit up the arena in a fire cracking spectacular.
For tomorrow night's spectacular Zac Maher has warmed up the feature bull "ONSLAUT" from the L and M Rodeo Company and is on fire coming to Parkes. Troy Cross is another star on the comeback trail and has pocketed almost $10,000 since Christmas making him arguably the hottest bull rider on the circuit at the moment.
He will be hungry for another win. The committee has worked on improving the event with more food, better seating
and extra entertainment. Bring your camera to catch the Trick Riders from Tamworth. The event is the last rodeo in the Southern Zone before the finals, and set to be a huge draw card for the top cowboys and cowgirls chasing championship points and will include: Saddle Bronc Riding, the original rodeo event; Bareback Bronc riding the suicide event of rodeo; Bull Riding, the only event a cowboy can earn over one million dollars a year; and Ladies Barrel Racing, introducing the ladies of the professional rodeo.