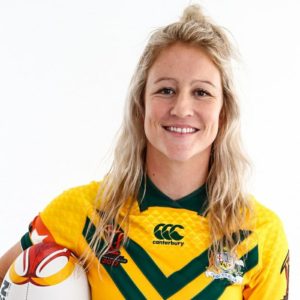 A long-term dream came true for a Parkes local yesterday when she ran onto the field in Sydney as a debutant for the Jillaroos in the Women's Rugby League World Cup against the Cook Islands. "I was so overcome with emotions getting that call up saying I had made the team," said Talesha Quinn, who graduated from Parkes High School in 2007. "It meant all the sacrifices I made and my big move to Sydney was all worth it! It's such an exciting time to be involved with the women's game and I wouldn't change a thing."
Talesha knew she wanted to be a Jillaroo when she first played for NSW in 2012 and has been working towards it ever since, taking a few detours. She joined the army and was sent to Townsville only to discover the local rugby league competition was discontinued.
"That absolutely shattered me, so I converted to rugby union." It was when she saw the NSW girls win the interstate game last year beating Queensland for the first time in 17 years, she knew in her heart she could have been there. "At that moment I knew where my heart was, and I made a decision to move to Sydney." The army helped her to get accepted into an elite athlete program and she was posted to the big smoke at end of last year.
"And here I am one year later playing at a World Cup still working fulltime with the Australian army!" Talesha said she would not have made it without the support of her parents and two brothers. "They are pushing me to chase my goals no matter the cost." That was why she said earlier this week she could not wait for the first game wearing jersey number 17. "I am so excited and can't wait to prove to everyone why I'm here." She is most looking forward to playing the Kiwis.
Six countries are taking part in the World Cup. All games will be televised on Channel 7 or Channel 7 Mate.
By Maggi Barnard