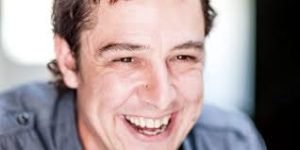 Australian actor, radio presenter, voiceover artist and philanthropist Samuel Johnson will be the celebrity speaker at a gala dinner on 19th October at the Forbes Services Club.
Samuel raised thousands of dollars for CanTeen in 2003 when he rode over 1,000km on his unicycle from Sydney to
Melbourne. In 2013 he set a new Guiness World Record when he went right around Australia on his unicycle. He also raised $2 million for cancer research and assisted his sister Connie to spread awareness of breast cancer.
In 2001 Samuel was awarded the Australian Centenary Medal, Queen's New Year's Honours List, for his services to Australian society and Australian film production. He has been named GQ Magazine's Social Force of the Year, he shares the 2015 Research Australia Advocacy Award with his sister Connie and in 2016 he was awarded a Medal of the Order of Australia (OAM) for his services to cancer research.