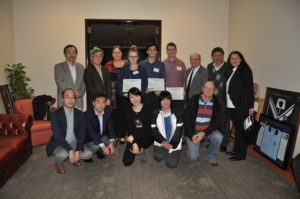 Three students received scholarships from Sumitomo Metal Mining Oceania (SMMO) last week. Mihran Sarkissian, Peter Lindsay and Eloise Clayton were awarded the scholarships, which are supported and administered by Northparkes Mines.
SMMO Managing Director, Hitoshi Ito, said: "Sumitomo has been a partner of Northparkes since its very beginning in 1993. We have provided SMMO scholarships to students for the past three years to demonstrate our commitment to Northparkes and our wish to work with the local community for many years to come." Northparkes Managing Director Stefanie Loader said: "We are pleased to have the opportunity via SMMO to support local students pursue a career in mining."
Eloise attended Trundle Central School and is now studying a Bachelor of Science at Western Sydney University. Eloise is excited about the possibility of a work placement at Northparkes, and would like to return to the region when she completes her studies. Mihran and Peter are both Year 11 Students at Red Bend Catholic College. Mihran said: "My dream is to study electrical engineering, and I hope to participate in the Honeywell Engineering Summer School this year via the University of NSW. The support from SMMO will help me achieve this." Peter plans to become a mechanical or electrical engineer. "I appreciate the ongoing support from SMMO, and the opportunity for work experience through Northparkes Mines".
The two Year 11 students will receive $500 for successful completion of Year 11 and $1,000 for successful completion of Year 12. There is also a $2,000 grant to scholarship students who enter and successfully complete their first year at university in a mining related course.