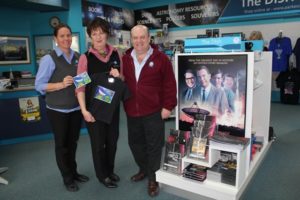 "This is the coolest place to visit if you're a lover of science and history." This is one of hundreds of positive comments on the Trip Advisor website about visitors' experience at the CSIRO Parkes Observatory Visitor Centre. In fact The Dish have consistently earned great reviews from travellers and was awarded a Trip Advisor 2016 Certificate of Excellence recently.
Another feather in the cap of the centre was a drastic increase in numbers over the 2015/2016 financial year with more than 95,000 visitors compared to just over 73,000 visitors for the previous year. "This is fantastic and makes us the number one outreach site of the CSIRO nationally," said John Sarkissian, Operations Scientist. While these numbers are still below the record of 130, 000 in 2003 after the release of the movie The Dish, John said he anticipated renewed interest when work on the Breakthrough project starts in October.
Keeping so many people entertained means constant renewal, such as the upgrade of the 3D shows with a new high definition projector, screen and seats, while the Swinburne University of Technology is working on a Parkes specific 3D show. Margaret Marshall, a staff member, painted friendly aliens taking a selfie, which is now for sale on t-shirts, postcards and other items.
If you have not been out there for a while, you will be amazed and might agree with this comment: "The view of the radio telescope as you first enter is nothing short of breathtaking."