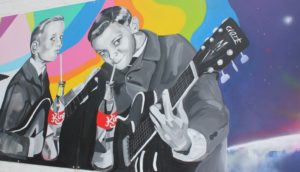 The number seven is significant for a number of big anniversaries celebrated by the 2017 Heritage Event of the Parkes Historical Society.
It is 80 years since the establishment of 2PK "The Voice of the Golden West" in 1937; 78 years of the Sunshine Club; 50 years of the Henry Parkes Museum; 50 years of the Parkes Country Muster and 50 years of the Emmanuel family living in Parkes.
It is only fitting that 2PK ROK/FM will be broadcasting from the Henry Parkes Museum from 9am to 12pm tomorrow. The station was officially opened by the minister delivering his speech via telephone from Temora.
Two years later the station started the Sunshine Club and Koala Club to raise funds for the Royal Far West Health Scheme, and a special railway carriage for rural NSW. While the carriage is in the museum in Cobar, 2PK continues to support the Sunshine Club today. Many people will fondly remember the theme song "Painting the clouds with sunshine" that played at 11am every day.
A Singer sewing machine could be won at the Sunshine Club's annual handicraft day for the best apron. Some of these aprons are on display at the museum. The Sunshine Club's popular recipe book will also be on sale.
2PK also sponsored country music and international country entertainer Wayne Harsburgh will be here for the 50th
anniversary weekend.
Continuing on the musical theme, the Emmanuel exhibition at the Henry Parkes Museum focuses on the family and includes Tommy's Corgi collection among other interesting items.
Everyone is invited to the Heritage Day from 9am and the cutting of the cake at 11:30am at the Henry Parkes Museum. Entry fee $5.
By Yvonne Hutton