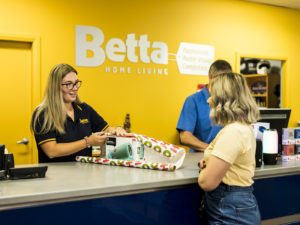 Shop Parkes has your Christmas all wrapped up this year, with the highly anticipated annual retail campaign launching this week.
Parkes Shire Council and Parkes Chamber of Commerce have joined forces again to deliver the annual Shop Parkes this Christmas retail campaign, which aims to drive spend into the local economy over the festive season. The theme this year is to 'give a gift to the community' by shopping locally.
Parkes Chamber of Commerce President, Geoff Rice said: "This year we are encouraging shoppers to support the local business operators who support our community."
"For each dollar spent at a local business, 45 cents is reinvested back into our community. Being a drought-affected community, it is especially important to help keep the money flowing throughout our region where possible."
According to Parkes Council's Economic & Business Development Manager, Anna Wyllie it's been made simple, more accessible and affordable for businesses to participate in order to maximise the strength of the campaign and appeal of Parkes as a place to shop this Christmas.
"Shoppers are encouraged to take advantage of 12 Days of Christmas special offers  throughout the festive season from 29th November, that can be unwrapped and accessed via the Shop Parkes Facebook and Instagram pages, or the Visit Parkes website."
"We are opening Christmas Central in the CBD for the first time where shoppers can have their gifts wrapped for free and complete an online survey to go into the draw to win a $500 Shop Parkes Region Gift Card." For your chance to win, simply shop at any Parkes Shire retail outlet and complete the survey online via visitparkes.com.au or drop into Christmas Central. The lucky winner will be announced on Friday, 4th January 2019.
Christmas Central at 203 Clarinda Street Opening Hours: Thursdays 4pm – 7pm Saturdays 10am – 2pm.