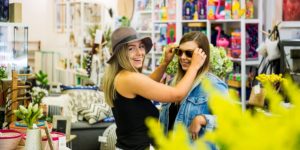 Stand Out With Hand Made Local Products
Adelarose has many treasures to be discovered, but for the festival there are vintage-inspired locally hand-made dresses, which are in high demand. Choose from beautiful flower patterns, or be more daring with a pink flamingo option. If you are not after a dress, there are also other Elvis-inspired gifts all hand made locally including knitting, cushions and even pencil drawings.
Enjoy Festival With Help Of Parkes Pharmacy
Parkes Pharmacy has all you need to keep as cool as Elvis during the festival. Look no further for all your first aid needs, and treatment of minor ailments like cuts, scrapes and burns. Beat the heat with the loads of options available to keep hydrated to ensure you can enjoy all the amazing performances. Remember it is important to keep up the electrolytes and stay cool with some ice towels.
Alaskan Malamute Inspires Hand Made Gifts
Bella-Lee Treasures was established in May 2017 after the owner Haylee Pottage lost her beloved three-year-old Alaskan Malamute called Bella to canine epilepsy. When Haylee lost Bella she found herself with empty time and picked up the hobby of making fabric jewellery and gifts. Haylee is a Parkes resident who is looking forward to sharing her products with festival goers. Drop by her market stall in Cooke Park and take a look at her Elvis Presley fabric jewellery and gifts. Find her on Facebook: Bella-Lee Treasures.
Colouby Is The Place To Get Your Elvis On
Colouby Creations in Clarinda Street is ready to Rock 'n Roll at The Parkes Elvis Festival. If you want to go with the All Shook Up theme or need anything else Elvis-related, this is the place to pop in to for dresses, skirts, petticoats, wigs, glasses, handbags, head scarves, jumpsuits, memorabilia for guys, gals and kids – it's all there.
Sale on at The Red Chandelier
Get All Shook Up with the 50% off sale at The Red Chandelier at 300A Clarinda Street during the festival! A good variety of women's fashion, accessories and homewares on offer. Pop in for a good bargain.
Support Local And Homemade
Join the movement by buying handmade Elvis paraphernalia this festival. It is easy in Parkes as the Craft Corner at 227 Clarinda Street has a good selection of unique Elvis items, such as quilts, wall hangings, tea towels, portraits and many more. There are also many other craft pieces and fresh homemade food items, as well as a large selection of art, including beautiful creations by mosaic artist Sue Maddison.
Elvis Merch Galore
Visit Byrne Clothing at 233 Clarinda Street and get your All Shook Up shirts, Elvis hats, stubby holders and Hawaiian shirts, hats and lots more.
Elvis Jewellery at Nangar Gems
Do you like unique jewellery to remind you of special occasions? Nangar Gems in Clarinda Street has a limited edition Elvis charm available this year for the festival. Or you can dress the part with Pandora's bohemian-inspired jewellery including leather bracelets!