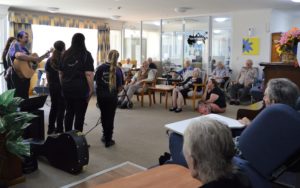 Music has the remarkable power to stir us emotionally and physically, whether we're nine years old, or 99. It is also incredibly therapeutic for people impaired with Alzheimer's and dementia. Music can help to shift mood, provide a sense of control over life, manage stress, stimulate positive interactions with others, facilitate better brain function, and coordinate motor movements.
The residents of the three aged-care facilities in Parkes, Southern Cross Care, BaptistCare Niola and Rosedurnate, were each treated to a one-hour singing concert yesterday by Musica Arioso students. Musica Arioso is a local business owned by Gail Smith, who teaches music and singing to individuals and groups of all ages.
Gail prepared a group of her students with a variety of solo and group numbers to perform at the nursing homes. The group consisted of Gail Smith, Liz Naveau and five youths: Gracey Jones, Melissa McCreadie, Hope Kealley-Smith, Ruby Markwort and Lily Kealley-Smith.
"It went really well. The residents knew some of the songs, so they would sing along, for others they would clap or tap their feet. Some had big smiles and others a few tears. All in all, it was a lot of fun for all," said Gail.
Last year the group did a Christmas concert at Southern Cross and Rosedurnate and have added Niola this time. Gail has also organised concerts at the nursing homes for the next two school holidays and hopes to do a Christmas one again, time depending.