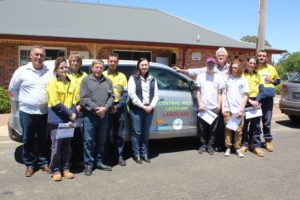 The third and last Skillset Green Army team graduated this week after 20 weeks of valuable environmental work in the Parkes and Forbes Shire Council areas. The team consisted of six participants between the ages of 17 and 24 years, overseen by team supervisor, Darrin Kopp.
The team did planting work at the Gum Swamp Painted Snipe Project site and at the Forbes National Tree Day site, Parkes National Tree Day site, Memorial Hill Parkes and Parkes Solar Farm. They also obtained work health safety, First Aid and other training, and assisted at Eco Day at the Central West Livestock Exchange.
"The team did well to make the most of the opportunities, and maintaining and improving biodiversity in our local area," said Central West Lachlan Landcare (CWLL) Co-ordinator, Marg Applebee. She thanked the Parkes and Forbes Shire Council staff for their support over the 18 months of the program.
"It has been a pleasure to work with Skillset to provide work opportunities for young people in our community." Marg said she hoped it was the beginning of many great things for the participants and that they would be able to build on the skills they have obtained. Darrin who worked very closely with the team every day, was rather overwhelmed when he thanked them. "Although you pushed me to the limit at times, I really enjoyed it. It was fantastic!"
The participants all agreed they had gained a lot of knowledge of and a much deeper appreciation for nature. The focus was on increasing the biodiversity and connecting Grey Box Grassy Woodlands corridors to increase habitat for
native species. CWLL will be taking applications as part of the National Landcare Programme (NLP) initiative. Landholders are encouraged to contact Marg on 6862 4914 if there is a project that would fit the NLP guidelines.