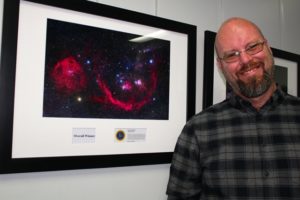 Troy Casswell has won the 2016 Central West Astronomical Society (CWAS) Astrophotography competition for the second year in a row. The astrophotographer from Coolum Beach on the Sunshine Coast in Queensland was declared the overall winner with his entry called Smilin Orion. The image covers the entire constellation of Orion, which is rich in stellar dust and bright nebulae. The red nebulae are hydrogen rich clouds. The giant red arc is Barnard's Loop, and is 500 light years from Earth.
Troy, who uses a Canon 60 camera, 135mm lens and an astro track tripod, enjoys astrophotography as a hobby. He said he got his first telescope for Haley's Comet in 1996, but it was the solar eclipse in 2012 in Cairns that opened the door for him to a new world.
The astrophotography competition, with a total prize money of $10,000 and open to all amateur astronomers in Australia, received 250 entries. Dr David Malin, the worldrenowned astrophotographer, judged the entries for the 13th time this year.
The 2016 CWAS David Malin Awards were presented at a special ceremony at the AstroFest held on Saturday for the first prize overall, eight category prizes and ten honourable mentions. Dr Malin said he judged several similar
competitions around the world, and the standard of the Australian astrophotographers' work stood up internationally. "There are some splendid examples of modern astrophotography among the finalists."
Dr Pete Woden, Chairman, Breakthrough Prize Foundation, said he was very impressed with the work of the photographers. "Their work has given me an idea to enlist their help in detecting optical signals." He said photographers were able to pick up flashes of laser light on camera. "These flashes could be from aliens sending signals to us."
An exhibition of the best photographs was opened at the Parkes Observatory Visitors Centre on Sunday as part of the 2016 Astro-Fest. Parkes Mayor, Ken Keith, said it was the best festival yet and he was happy to see it going from strength to strength. All the winning entries can be viewed on the David Malin Awards web page at http:// www.parkes.atnf.csiro.au/news_events/astrofest/awards/
The CWAS AstroFest team has produced a 2017 astronomy calendar of images from the shortlisted and winning entries. The calendar is available at the Parkes Observatory Visitors Centre for $19.95.
By Maggi Barnard