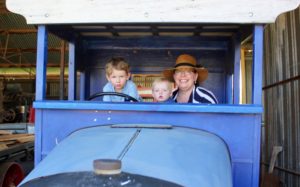 The Parkes & District Historical Society made enough smoke and noise last Sunday to attract the biggest crowd ever in 20 years to its annual open day.
More than 200 people of all generations looked on in amazement at the old ma- chines being started with blow lamps and all kinds of other trickeries, while small children had a great time climbing all over machines, opening doors and turning steering wheels.
"It is a terrific day out," said one man who brought his whole family. Yvonne Hutton, President of the society agreed saying it was absolutely magnificent. "It is the most successful day we've ever had."
She gave a big thumbs up to all the local members and members of the Central West Antique Machinery and Collectors Club from Molong who worked so hard on the machines all day "without a single swear word uttered".
Yvonne was also very happy with the support they had received from Member for Orange Philip Donato who was there for four hours. "He is an engine fellow himself and promised to bring back his father and other family," said Yvonne.
By Maggi Barnard