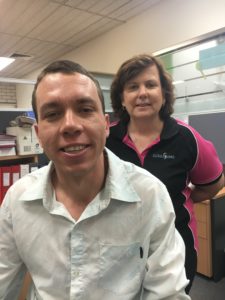 New Job Helps Charles Live Like A Prince: Charles Hamer is a great example of dedication and resilience. From having no job, living in shared accommodation and no licence, the Currajong Disability Services (CDS) client is now ticking all the boxes, not only because of his drive, but also due to the tremendous support from his carers.
"I am now in my first month at McDonalds, living independently and have a full licence," he said. "It has been a real boost to my confidence and I can say I have never been happier!"
"I am actually contemplating doing some TAFE courses and study to further my hospitality skills and add to my existing skill set."
"I just take one day at a time and keep doing the best that I can," he said.
Celebrating 25 years of Australia's Biggest Morning Tea: For 25 years, Cancer Council's Australia's Biggest Morning Tea has brought together millions of Australians over a cup of tea in support of those affected by cancer.
This May, Cancer Council is once again encouraging people across Australia to gather their friends, family or workmates for a cup of tea and a bite to eat whilst raising money to support Australia's Biggest Morning Tea and to help those affected by cancer.
In 2018, the official day to host a morning tea is Thursday 24 May, but anyone can host at any time in May or June. Those who want to host can register at biggestmorningtea.com.au or call 1300 65 65 85 to receive a free morning tea host kit.
Parkes Open Gardens: Sunday proved to be a good day for the Parkes Garden Club's Open Gardens event. "It's a good day if you wake up in the morning and have the wind in your hair and the sun in your face," claimed Frank Guise, one of the garden hosts.
There was plenty to inspire in all seven of the gardens, with a variety of garden sizes, styles, and decorations. Joining the locals were visitors from surrounding regions, including a bus group from Narromine.
Can Assist's Morning Tea and BBQ Lunch proved to be popular for those visiting the gardens. Ellie Hetherington hosted the BBQ lunch, as well as stalls selling craft goods and her own plant nursery offered a range of plants for sale. A guest speaker, Jenny Roberts from Dementia Australia, also provided an interesting and informative talk.