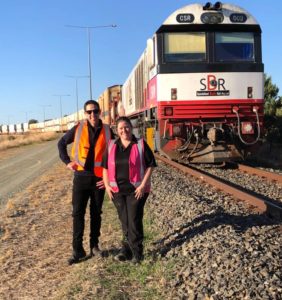 The Australasian Railway Association (ARA) and the Australian Logistics Council will be holding the 2018 Inland Rail Conference in Parkes on 18th and 19th July. ARA General Manager for Freight and Contractors, Duncan
Sheppard met with Trudie Varcoe, Site Supervisor at the SCT Intermodal Terminal last week where a site visit will be conducted for delegates at the conference.
Communities Grant: Parkes Shire Council will upgrade its central business district security network thanks to a $226,306 Safer Communities Fund grant. It will allow Council to install 17 new closed circuit television (CCTV) cameras and signs and upgrade 16 old analogue cameras. Council also plan to erect nine solar security lights and purchase a portable CCTV system with seven cameras and removable bollards to integrate with its existing security
system. The CCTV upgrade will be a deterrent to street crimes and anti-social behaviour and boost the ability of police to monitor and reduce this behaviour. President of the Parkes Chamber of Commerce, Geoff Rice, welcomed the grant. "Getting that amount of money will make it a terrific system."
Double Demerits: Double demerit points will be in force over the June long weekend (Queen's Birthday) for four days. Parkes, Forbes and Lachlan Shire Council's Road Safety and Injury Prevention Officer Melanie Suitor said: "Friday, 8th June is a publicly notified school day, and double demerit points will apply to all relevant school zone offences." Parkes Highway Patrol Sergeant Dearne Jeffree said: "Double demerit points apply to all speeding, seatbelt, mobile phone and motorcycle helmet offences over the four day period. Officers will also be targeting dangerous driving behaviours such as drink-driving and fatigue. "Highway Patrol will have a strong presence across
the Parkes, Forbes and Lachlan Shire Council areas this long weekend."
Parkes Picnic Races Competition Winner: Congratulations to Jacinta Knowles who won the double pass to attend the Picnic Races this Saturday!
Orange Choir At Bogan Gate For Third Time: Bogan Gate CWA members were overwhelmed by the response from locals for the Orange Male Voice Choir concert on Sunday with 127 people from Parkes, Forbes, Trundle, Tullamore, Tottenham, Orange, Condobolin and Bogan Gate attending. The choir performed a varied program,
including some Beatles songs. The performance was fantastic with the very capable and entertaining Barry Patterson
as conductor and talented Heijin Kim from Orange Regional Conservatorium as accompanist. Visitors were able to catch up with friends and meet choir members afterwards while enjoying a delicious afternoon tea provided by CWA members.