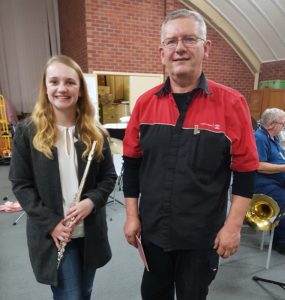 Nationals Candidate Yvette Quinn: attended a Parkes Shire Concert Band (PSCB) rehearsal recently. Yvette was a member of the band as a Parkes Public and Red Bend College student. She is a talented woodwind musician playing flute and saxophone. She is pictured with music director Duncan Clement.
NPM Recipients: A total of 15 applicants were successful in the latest round of the CMOC-Northparkes Mines Community Investment Program, which runs twice a year with $40,000 donated each round. The successful applicants were Australian Red Cross Parkes, Bedgerabong Show, Bedgerabong War Memorial Union Church,
Bogan Gate Branch of Country Women's Association (CWA), CWA of NSW Central Western Group, Forbes Amateur Swimming Club, Forbes Country Music Club Inc, Forbes High School, Mitchell Conservatorium Inc, Northparkes Charity Golf Day, PAINT PARKES REaD, Parkes Boppers Dance Troupe, Parkes Christian School, Parkes Dragon Boat Club and the Peak Hill Show Society. The next funding round closes on 30th October. Visit www.northparkes.com or contact Ali Standen on 6861 3621.
The Henrys: Nominations for the Parkes Business Awards – The Henrys, is open and closes on 20th August. If you haven't yet received the 2018 Awards Entry Info Pack, make contact on Facebook.
Author Festival: Kim Kelly, the author of seven novels that explore Australian history, including the bestselling The Blue Mile, the acclaimed Wild Chicory, and UK Pigeonhole favourite Paper Daisies, will be in Parkes on 26th July at 6pm with her new rollicking tale Lady Bird & the Fox. On 28th July at 10am academic and author Kim Hodges will talk about her latest book Girl Over the Edge. Kim has lived with mental illness for the past five years: bipolar 2 disorder, severe depression, generalised anxiety disorder, and post traumatic stress disorder. This is a follow up memoir to her successful debut memoir Girl on the Edge. On 3rd August at 6pm Jenny Bull will share her story of surviving fires, floods, Cyclone Ted and the 1970s beef crash in her book Back of Beyond. RSVP 6861 2309 or parkes.library@parkes.nsw.gov.au
Take The Lead: Dogs are many people's best friends, but not when they are attacking others on the streets. Parkes Shire Council has launched a Responsible Dog Ownership campaign Take The Lead to raise awareness about the roles and responsibilities of pet ownership. The aim is to reduce the number of roaming dogs and dog attacks. Councillor Bill Jayet, said: "There are many benefits to owning a dog – socially, physically and mentally, however it also comes with major responsibility." Council developed a pocket guide, social media content and public signage with information for responsible pet ownership with the focus on: ensuring your dog is kept safely within your property; ensure your dog is effectively controlled in public places; microchipping, registration and identification; vaccination, worming and de-sexing; off-leash areas in Parkes; Council's ranger services and the Companion Animals Act 1998 regulations. The Take The Lead pocket guide is available from Council's Administration Centre or
Parkes Veterinary Clinic, or download the information from www.parkes.nsw.gov.au