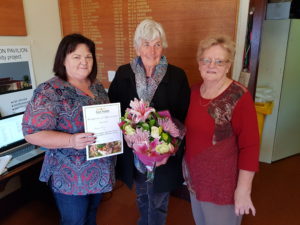 CanAssist President Narelle Schulze (left) and Treasurer Adrianne Brown presented retiring Parkes Show Society Secretary Kaye Bird (centre) with a certificate of appreciation for her assistance in coordinating the showground pavilions for the CanAssist garage sales held regularly.
Peak Hill Post Office Tops: The Peak Hill licenced Post Office won the annual Australia Post Retail Award in its region beating 141 other licenced Post Offices. The win also placed the Post Office in eighth position nationally. Congratulations have streamed in to Cathy and Tim Goodwin who took over the Post Office 17 years ago. They were in Sydney on Saturday to receive the award. Cathy said it was a good feeling to win, after they came third last year. The competition looks at monthly points earned by competing post offices in reaching targets like scanning of parcels and other tasks.
National Tree Day: Parkes Shire Council and Central West Lachlan Landcare invite Parkes Shire residents to plant trees and shrubs for Planet Ark's National Tree Day this Sunday. This year's event takes place from 10am at Akuna Road, off Eugowra Road adjacent to the new Advanced Water Recycling facility, and will conclude around midday with a barbeque lunch. This year's planting will connect remnant patches of vegetation in the area and provide a habitat link to the 2015 National Tree Day site located nearby. For more details and to register go to www.parkes.nsw.gov.au Please wear sturdy shoes, sunscreen, gloves and a hat.
Child Safety: The recent child restraint checking day discovered that 70% of the restraints checked were incorrectly fitted. A total of 22 child restraints were brought in for checking and two were installed. "The most common mistakes were that the seatbelt needed tightening, the seatbelt wasn't used correctly with the child restraint, the vehicle's headrest had to be moved up as it was resting on the child's shoulders and there wasn't a large enough gap between the back of the front seat and the child restraint," said Parkes Shire Council's Road Safety and Injury Prevention Officer, Melanie Suitor. According to national child restraints laws children are required to be seated in an approved child restraint, appropriate for their size until they are seven years of age.
Harvest Field Day: The 2018 'Be Road Ready For Harvest' Field Day and Performance Based Standards (PBS) vehicle demonstration takes place on 8th August at the Forbes Central West Livestock Exchange. The day starts with a free breakfast at 8am, a session on notices followed by an interactive machinery inspection session to clarify the requirements. The PBS demonstration is at 12:30pm. Registration is free but essential via Eventbrite https://www.eventbrite.com.au/e/be-road-ready-for-harvest-field-daypbs-demonstration-tickets-46510393840?aff=ebdssbdestsearch
Plant Carob Trees: Currajong Disability Services (CDS) is calling on partners for its carob tree business. Not only would you be doing your part for the environment and providing fodder for cattle, but you could potentially make a windfall. Carob is drought proof, can grow on free draining soil, slightly salt tolerant, feeds stock for free and has numerous health benefits. It is also a way to safeguard the future of CDS. To get involved or find out more email dane.millerd@currajong.org.au