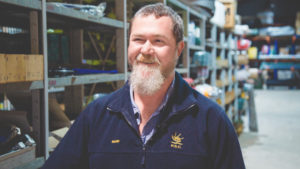 Council's Vibrant Workforce: Parkes Shire Council has put its staff in the spotlight as part of Local Government Week (LGW) celebrations this week under the theme 'The Power of Community'. A number of staff profiles have been showcased across social media and in local publications. "While council is known for managing roads, rates and rubbish, Local Government Week is a great opportunity for our community to learn about the diversity of the work that often goes unseen," said Parkes Shire Council's General Manager, Kent Boyd. Parkes Shire Councillors also
visited schools to give a short presentation to year 5 and 6 students to raise awareness of local government and what it does for our community. Residents are encouraged to keep an eye out for the LGW interactive white board at the Parkes, Trundle, Tullamore and Peak Hill shows where they can contribute what they would do if they were Mayor for the day.
Cultural Grants: Parliamentary Secretary for Western NSW Rick Colless has urged arts and culture organisations in the Orange Electorate to get applications in to secure their share of a new $47 million round of funding as part of the NSW Government's Regional Cultural Fund (RCF). Applications from Council, as well as arts, screen and culture organisations will close on 21st September. In round one the Parkes Library expansion received funding of more than $2 million combined to improve the facilities. The guidelines to apply for funding can be found at www.nsw.gov.au/regionalculturalfund.
Henrys Info Session & Chamber Breakfast: Join the Parkes Business Chamber on 8 August for a light breakfast in the Hart Bar to answer any questions you might have in regards to The Henrys from 7 to 8am. It will be followed by a brief chamber meeting. Everyone is welcome.
Do Something Day: Last week ROKFM dropped in at Currajong Disability Services (CDS) for Do Something Day (#dosomethingday) – Australia's biggest celebration of giving back. "It recognises the extraordinary contributions of everyday locals within our communities," said CDS Direct Care Team Leader Indigo Kriedemann. "ROKFM came to us with free scones made by the CWA and we can't thank them enough." The Penrith Panthers rugby league side
participated in the national event and raised $150,000. There are many charities = and organisations that need help, why not get involved?