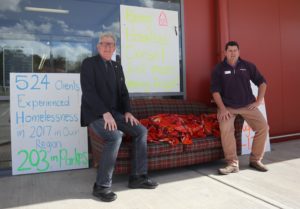 This week marked Homelessness Week, and Catholic Care Wilcannia-Forbes Team Leader Andrew Bament said over 220 people in the Parkes Shire and 111 in the Forbes Shire identified as being homeless or at risk of homelessness last year. The Parkes Social and Affordable Housing Forum will be held in the Council Chambers on Thursday, 11th October at 9am. Councillor Bill Jayet and Andrew Bament at the Homelessness Week display in Parkes.
Passenger Rail Service: Member for Orange Philip Donato MP joined members of the Orange Rail Action Group for the launch of a petition for improved rail services for Orange and the Central West. The Orange Rail Action Group needs 10,000 signatures from our community to have the matter debated in the Legislative Assembly of the NSW Parliament. President of the Orange Rail Action Group Peter Bilenkij said: "We (the community) want fast passenger train services between Sydney and the Central West."
Mock Crash Dress Rehearsal: Parkes residents are invited to attend the final dress rehearsal for this year's mock crash demonstration on Monday, 13th August at Parkes High School's multi-purpose centre at 7pm. In its 10th year, the mock crash demonstration aims to improve the attitudes and behaviours of young drivers and passengers. As it is targeted at Year 10 students, the content is not suitable for children under the age of 15. The run time is around 60 minutes. No need to book in – just turn up.
New Road Rule: From 1st September motorists must slow down to 40km/h when passing emergency vehicles stopped on the road and displaying flashing blue or red lights. These include the following: NSW Police Force vehicles, Ambulance Service of NSW vehicles, Fire & Rescue NSW vehicles, State Emergency Service vehicles, Rural Fire Service vehicles, Volunteer Rescue Association vehicles and Transport Emergency Response vehicles.
Free Learner Driver Workshop: Parents and supervisors of local learner drivers are encouraged to attend a free workshop at Parkes Christian School on Tuesday, 14th August at 6pm. The two-hour workshop will offer parents and supervisors hands-on and practical advice on how to provide the most effective driving practice for learner drivers. The workshop covers the changes to the licencing system that came into effect last November, how to use the Learner Driver Logbook including the use of digital logbooks, licence conditions for learner and P-plate drivers, the benefits of onroad driving sessions, tips on supervising a learner driver and more. Bookings are essential, call Melanie Suitor on 6861 2364.
Member for Orange Phil Donato MP handed a $5,000 cheque to Brett Dean, President of the Parkes Gun Club last Thursday after its successful application through the Local Sport Grant Program. The club will purchase a third clay pigeon machine to cater for its approximately 35 members, but also up to 40 visitors that turn up on club days. Brett said the socialisation aspect of the club was of particular benefit to local farmers. "It's an outing where they don't have to think about what's going on at the farm."