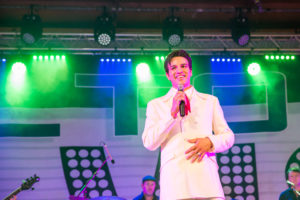 The 2018 Parkes Elvis Festival feature artist Ben Thompson has won the prestigious Ultimate Elvis Tribute Artist title in Memphis! Anthony Petrucci (pictured), the winner of the Parkes preliminary round of the Ultimate Elvis Tribute Artist Contest® also took part representing Parkes.
Housing Issues: Parkes Shire Council will bring together several agencies and community representatives to tackle the lack of social and affordable housing across the region. The aim of the forum, to be held in the Council Chambers on 11th October at 9am, will be to develop a strategy to address the issue. Catholic Care Wilcannia-Forbes Team Leader Andrew Bament said over 220 people in the Parkes Shire and 111 in the Forbes Shire identified as being homeless or at risk of homelessness in 2017. Interested agency representatives and community members are encouraged to contact Council on 6861 2373.
August Muster: Kate Daniel and Bob Gregory will be the feature artists on Sunday, 19th August at 1pm in the Starlight Lounge of the Parkes Services Club. Kate is known for her performances at the Bungendore Muster almost since its inception, while Bob won the New Talent Award at this year's Bungendore Muster.
The July Muster, featuring Cheryl Simpson from Dubbo accompanied by Tony Dess on keyboard, was a great success. Other performers included Craig Manderson, Barry Joseph, and Gary Hollier from Dubbo; Narelle Sellick – Temora; Ken Chalker and Joy Rice from Cowra; Bruce Toole – Forbes; Lindy and Jock Charlton – Parkes; Robert Charlton and his daughters Sarah, Hayley and Caleah from Peak Hill and 10-year-old Annabelle van Wyk from Alectown.
Safety additions at Schools: The Holy Family Primary School in Parkes has benefited from the completion of a $10 million program boosting school zone safety in the Orange Electorate. Holy Family received new line marking and ramps on Albert Street. The project included upgrades to pedestrian infrastructure at 140 schools, as well as the addition of extra school zone flashing lights to more than 500 schools around the state.
Parkes Show: Congratulations to Amelia Tanswell and Jade Nolan for entering the 2018 Parkes Showgirl competition. The winner will be announced at the Parkes Show on 28th August at 3pm. David and Angela Copeland and Caitlin Herbert will be judging the Showgirl Competition. There is still time to get a three-day pass for the show at $15 for adults and $5 for schoolies (children currently attending school). Children not yet at school get free entry. Tickets available at Byrnes Clothing and Embroidery, Cunningham's IGA and the Show Office.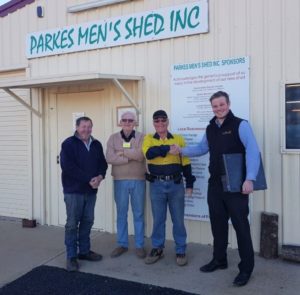 Parkes Shire Council will donate its used technology to the Parkes Men's Shed in an effort to reuse and recycle. The devices and machines will be in working condition allowing the Men's Shed to sell them to local residents creating an income for the volunteer group. Pictured are (L-R) Councillor George Pratt, Roly Pengilly and Tony Vickers from Parkes Men's Shed, and Council's Network & Systems Support Officer Kurt Rosser.