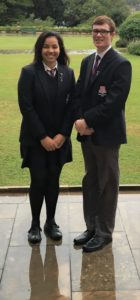 CanTeen Fundraiser: Parkes High School Captains Emeline Lavaka and Gordon Richter are holding a fundraising event for CanTeen. They will be dying their hair if they reach a $1,000 benchmark. The campaign will promote awareness in the community about the importance of strong support systems for families, especially teenagers, impacted by cancer. Their aim is to get sponsorship from local businesses. "Once we have reached $1,000, anyone who makes a donation of $15 or more will be eligible to vote towards what colour we dye our hair," they said. The reveal will take place 26th September at Parkes High School LP Johnson Hall at 6pm.
New 40km/h Speed Zones: A 12-month trial has started for 40 km/h speed zones imposed on NSW roads where emergency services are performing vital functions. "Too many of our professional and volunteer emergency services workers have experienced close calls with speeding vehicles, when trying to do their job," said Member for Orange Phil Donato, who campaigned for the legislation. "The safety of emergency services staff far outweighs the inconvenience of having to slow down to 40 km/h as we pass them. Let's do our bit to protect them while they're trying to protect all of us."
Heavy Vehicle Safety: Government has contributed $860,000 to a $1.87 million project to widen and seal a 6.2 kilometre section of the Bogan Way. The upgrade will cater for the growing number of heavy vehicles on the road, and address a number of bottlenecks along the route.
Hello! From Australia: Indigenous children's books and illustrations feature at a travelling exhibition hosted by Parkes Library until 22nd September. This exhibition from Books Illustrated in Melbourne showcases the contemporary publishing of indigenous books in Australia, and features 20 picture book illustration prints including
two large illustrations on canvas from Steve goes to Carnival by Joshua Button and Robyn Wells and Lisa Kennedy Welcome to Country.
Be REaDiculous! PAINT Parkes REaD is on Friday, 14th September from 9:30am at Cooke Park. This community project encourages families to read, talk, sing and rhyme to their babies from birth. It is a morning filled with action packed fun including dancing and singing in the main street, performances by community members, reading in stores, games and much more! Don't forget to dress to the REaDiculous theme, and keep your eyes open for REaDiculous things around town.