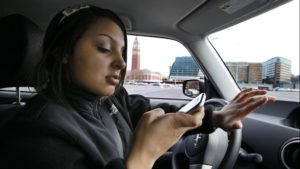 Tough Penalties: Drivers using a mobile phone illegally will be penalised an extra demerit point, which means a total of five demerit points. The new law came into effect on Monday, 17th September. This means when double demerits are applied, you could be at risk of losing your licence. The fines will remain the same – $337 or $448 in a school zone. In NSW Learner, P1 and P2 licence holders are not permitted to use a mobile phone at all while driving.
Fully licensed motorists are legally permitted to use their phone to make or answer calls or listen to music only if it is in a cradle, doesn't obscure your view of the road and can be operated without touching any part of the phone, such as via Bluetooth or voice activation. Texting, emailing, social media and photography are all prohibited unless a vehicle is parked.
Schools Kits For Armistice Day: Member for Riverina and Deputy Prime Minister Michael McCormack is encouraging schools and students to become involved in this year's Remembrance Day commemorations as it will mark 100 years since the end of fighting during World War I. "Its origins began on 11 November 1918 when the Armistice, which signalled the end of the Great War, was signed." The Department of Veterans' Affairs produce an educational pack for schools to promote the observance of Remembrance Day. Schools will receive the educational kit in September, with resources available to download on The Anzac Portal: http://anzacportal.dva.gov.au/.
Cash Back For Farmers: Farmers in regional NSW will get more cash back with rebates and refunds on heavy vehicle registration after the NSW Government changed the way registration charges are calculated for primary producers. The changes will come into effect from 1st November. Farmers will also receive free registration over the next two years for their heavy vehicles. The registration rebate will apply to all renewals from 1st July 2018 until 30th June 2020. For producers who register their vehicles between 1st July and 1st November this year, the amount will be refunded. Farmers will still have to pay for Compulsory Third Party (CTP) insurance, personalised plates and relevant vehicle checks. Affected customers will be contacted by Roads and Maritime Services from 1 November with the refund amounts.