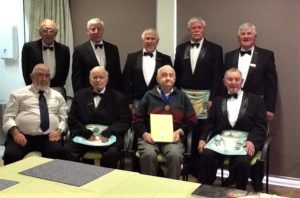 70 Years: Members of the Goldfields Lodge Parkes met at the Peak Hill Hospital to present Wor Bro Dick Baxter OAM with his 70-year certificate in Masonry. Dick joined Lodge Jersey No 204 Peak Hill in July 1948 shortly after his return from World War II as a farmer grazier. He served in the RAAF (1940 – 1945) as radio mechanic in the
South Pacific Islands with Beaufort Boomers Squadron. Dick became Master in June 1977. He was Master a number of times and Secretary Treasurer until the Lodge closed on 26th July 2014. Dick was also involved in the Peak Hill Service Club and RSL Sub Committee, Peak Hill A&H Show, Frazer Court Retirement Village and in recent times the Peak Hill Men's Shed. Dick's sons Graham and John and their partners were also at the presentation. Dick said the
best thing he had done was to join Masonry for friendship, personal development and encouragement.
Open Garden In Support Of Farmers: Ian and Marion Unger, the owners of Avarest at 12 – 18 Reymond Street in Parkes, are holding an Open Garden event this weekend (29 & 30) as a drought appeal with a difference. "We are most concerned by the cumulative effect of drought on the human being." All proceeds will help give frazzled farming families some time away. (See details of opening times in the What's On column on page 6.)
Four Days Of Double Demerits: Motorists are reminded that double demerits will be in force from today, Friday, 28th September to Monday, 1st October (inclusive). Police will target speed, seatbelts, mobile phone use and motorcyclists not wearing helmets. Drivers are reminded that the demerit points increased for mobile phone offences to five, meaning you could be at risk of losing your licence.
Meals On Wheels Auction Dinner: Parkes Meals on Wheels will be hosting a Dinner Auction on Friday, 12th October at the Parkes Services Club at 7pm to raise funds for a much needed cold storage vehicle. A great range of items are up for auction including a cruise, sailing day, helicopter ride to name a few. The dinner tickets are $35 per person and available from the Meals on Wheels office at 78 Clarinda Street. If you can donate to the auction contact Gill on 6863 4942.