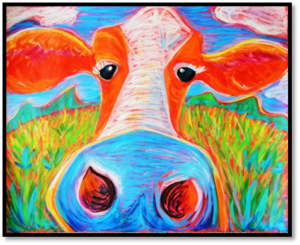 Drought Art: The Little Art Company is holding an Open Day tomorrow from 10am to 4:30pm at the Old Parkes Convent at 33 Currajong Street. The students invite everyone to view their masterpieces while supporting our farmers at a special studio morning tea with scones and jam from the Dish Cafe. You can also create your own masterpiece at farm-inspired art workshops. Limited numbers available for the Oink Oink workshop from 11am to 12pm, and Quirky Cows workshop from 1 to 2pm. All money raised will go to the Buy a Bale initiative. Bookings required for workshops, call 0429 634 777.
Day Light Saving Starts: On Sunday, 7th October at 2am we turn our clocks forward one hour to 3am. This means sunrise and sunset will be one hour later than Saturday, giving us more light in the evening.
Identify Mobile Black Spots: Riverina MP and Deputy Prime Minister Michael Mc- Cormack is encouraging residents in the Central West to identify mobile phone black spots in their area. Residents are asked to pinpoint locations to help inform the rollout of the fourth round of the Government's $220 million Mobile Black Spot Program. The database will be open until Thursday, 11th October. Contact Michael's office in Parkes on 6862 4560, or send an email to michael.mccormack.mp@aph.gov.au.
Relay For Life Postponed: Cancer Council and the volunteer organising committee have decided to postpone the Parkes & District Relay For Life (Parkes Relay) from 27/28 October to 23/24 March next year. Renee Rice, Chair of the Parkes Relay committee said: "With so many people affected by drought and local businesses having been so generous, we felt it would be too much to go ahead just now." Registered participants are being contacted, and all existing registrations will be automatically moved to the new date.
Reminder New Road Rule: A new road rule is in place in NSW to improve the safety of emergency workers, and the people they are protecting. Motorists need to slow down to 40km/h when passing a stationary emergency vehicle displaying red or blue flashing lights, and to give way to any person on foot in the immediate area of the emergency vehicle. It applies to vehicles travelling in both directions. Motorists who fail to comply with the rule will face a $448
fine and three demerit points.