Domestic violence campaigner Rosie Batty (middle) was in Parkes recently for the Northparkes Mines White Ribbon Day. She is with (L-R) Chase Dingle, Cr Louise O'Leary, Mayor Ken Keith, Cr Wally Biles and Michelle Wetherell.
Support Seriously Ill Kids This Halloween: Woolworths and Variety the Children's Charity are encouraging Parkes residents to help support seriously ill children when they shop in the lead up to Halloween. Parkes customers can play their part by simply adding a $1 Woolworths Halloween fundraising token to their shop until 31st October. Variety the Children's Charity helps children and their families with financial support for wheelchairs, specialist equipment, therapy, and medical supplies. Garage Sale Trail: Why not hold a Garage Sale next Saturday, 20th or Sunday, 21st October and be part of the Parkes Garage Sale Trail. To place your classified Garage Sale ad contact Sylvie on 0490 517 590 or email sales@parkesphoenix.com.au
Latest Competition: Don't forget to enter our latest competition and you could be off to the Australian National Field Days. Fill out the form on Page 2 or enter via the website www.parkesphoenix.com.au or Facebook.
Easy Business: Opening and running a café, small bar or restaurant in the Parkes Shire just got easier, following the launch of the Easy to do Business program. Council teamed up with Service NSW and the Office of the NSW Small Business Commissioner to launch the program aimed at providing personalised step-by-step guidance and support via an online portal. Sign up for free personalised assistance to help you get started, including advice on licensing, regulations, approvals required, as well as the time, effort and fees involved. For more information, visit service.nsw.gov.au/business or call 13 77 88.
Show 'n Shine And Swap Meet: Hundreds of car enthusiasts are expected to roll into Parkes tomorrow for the 25th Show And Shine and Swap Meet, one of the biggest in the Central West. The Parkes Antique Motor Club (PAMC) and Central West Car Club (CWCC) have joined forces again at Pioneer Park. Gates open at 6am with entry to Pioneer Oval via the eastern end of Victoria Street. Proceeds from Show and Shine will be donated to Can Assist. The Swap Meet proceeds will go towards resourcing the Parkes Motor Museum. To register for the Swap Meet, contact Allen Curteis on 6862 5848 or Phil Dixon on 0419 888 695.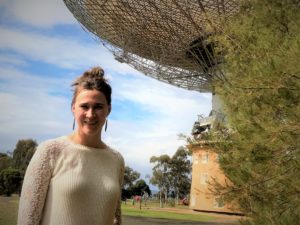 Astronomy was served up to almost 200 people every day at the CSIRO Parkes Radio Telescope these holidays. Dr Jane Kaczmarek, postdoctoral fellow, is passionate about sharing her vast knowledge. She held two presentations daily to connect and engage with the Telescope's up to 1,000 visitors a day. (Read the full story on our Facebook page.)