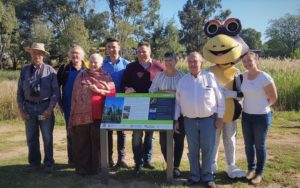 Win $1,000 In Elvis Parade: Schools, businesses and community groups are encouraged to get involved in the 2019 Parkes Elvis Festival. Sponsor of the Street Parade, Northparkes Mines, has donated a $1,000 cash prize for the best float. Bunnings Forbes is donating building materials to schools who would like to take up the challenge. Local businesses are also encouraged to take part but will have to nominate a charity/non-profit to donate the money to in order to be in the running for the cash prize. The Northparkes Mines Street Parade will be held at 10am on Saturday,
12th January 2019. Entry Forms are available online via www.parkeselvisfestival.com.au or at the Parkes Visitor Information Centre.
Competition Winner: Congratulations to Allison Falconer from Parkes on winning our Australian National Field Days competition! Thank you to everyone who entered.
Join The Mid-Term Workshops: Residents across the Parkes Shire are encouraged to learn about the major projects set to be delivered over the next two years at the upcoming Parkes 2030 mid-term workshops to review and update the priorities and aspirations set by the community. Having reached the mid-way point in the current term of council, Councillors and staff will be visiting each township to speak with the community about the projects delivered thus far, and what's currently in the planning. The workshops started this week and the remaining ones will be held at Trundle 30th October at Memorial Hall 6pm – 7.30pm; Parkes 1st November at Coventry Room 6pm – 7.30pm; and Cookamidgera 7th November at Cookamidgera Hall 6pm – 7.30pm
Country Music News: The August featured artists Bob Gregory and Kate Daniel performed a wonderful set of Australian Ballads and instrumentals. The featured artist at the September muster was wellknown musician and vocalist Matthew Hollier from Dubbo. The Peak Hill muster is on Sunday, 4th November, while the Parkes & District Country Music Assoc. Inc annual general meeting will be held on Monday, 12th November upstairs at the Parkes Services Club 7:30pm. The next monthly muster will be on 18th November in the Starlight Lounge at the Parkes Services Club at 1pm with Barry Green as featured artist. The Christmas Charity muster will be on 15th December at 7:30pm.