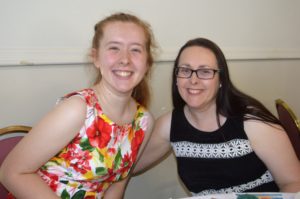 Emma and Jacquelyne Greenland: attended the Anglicare's Fashion Affair last Saturday to hep raise funds for
Georgie's Pantry.
Congratulations: Cathy McPherson was picked as the winner of our Spring Photo Competition from a load of very good entries this year. She has won a family photo session with Chemical Creations Photography! Thanks to everyone for entering.
Christmas Street Parade: There is still time to enter the Christmas Street Parade on 30th November organised by the Parkes Action Club. You can walk, bike, or dress up a car or ute for one of the most popular Christmas events in Parkes. The deadline for entries is Friday, 23rd November. Send your entry to parkesactionclub@gmail.com
Lions Christmas Cakes: Forbes and District Lions will once again be selling their Christmas cakes and puddings. This year the 1.5kg cake is $17, the 1kg cake $13 and the puddings $13. These popular cakes and puddings have been selling in Australia since the 1960's and are baked for Lions Australia by Top Taste Bakeries. Money raised goes to service projects in the local community as well as national and international projects. Some of these are Sight First, medical research, Children's Mobility Foundation, Eye Health Program, Hearing Dogs, Disaster Relief, Aged Care, Drug Awareness and Youth Programs. Since 1965 Lions Christmas Cakes have raised an estimated profit in excess of $56m. The cakes will be available at Parkes Meals on Wheels and Neighbourhood Central.
Bush Wage Subsidy Trial: Riverina MP and Deputy Prime Minister Michael McCormack says the Federal Government's $60 million investment to attract more apprentices in the bush is a major boost to rural and regional small and family businesses. Government announced it would trial a wage subsidy as an incentive for employers in regional and rural communities to engage more apprentices. From 1st January next year the new subsidy under the Australian Apprenticeships Incentives Program (AAIP), will support eligible new Australian apprentices in areas such as plumbing, mechanical, electrical, painting trades and hairdressing. Subsidies will be provided at 75% of the apprentice's award wage in the first year, followed with 50% in the second year and 25% in the third year.
DIY renovators warned: One in three homes contain asbestos! If your home was built or renovated before 1987, it will likely contain asbestos. This does not just include fibro properties, but also brick, weatherboard and clad homes.