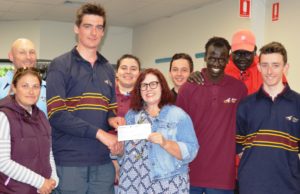 Georgie's Pantry: received a $700 donation from the Ballarat Christian College last week. The students from Victoria raised the money as part of their Victorian Certificate of Applied Learning (VCAL) project. They visited Parkes last week to also meet a farmer and spend money in the community to support businesses doing it tough in the drought. In the photo (L-R) are Karen Farquhar (VCAL Coordinator), Trent Loader (Head of Senior School), Isaac, Caitlin, Joel, Yual, Lunyjock and Daniel – all Year 11 VCAL students – with Natalie Quince, Manager of Anglicare Parkes.
Christmas Bingo: The Trundle Branch of the Royal Far West Sunshine Club is raising money to give country kids the same opportunity for top health care as city kids. Join in the fun of Christmas Bingo on Sunday, 2nd December at 10am at Trundle Golf Club with many great prizes, a 60 pick-abox and a raffle: 1st prize Sunbeam electric frying pan, 2nd and 3rd prizes are large table lamps, 4th prize a silver bangle (donated by Nangar). Lunch available for $5.
Light A Candle: The annual candle lighting event of the Parkes Chapter of the Compassionate Friends will take place again at Lions Park on Sunday, 9th December from 5:30pm. "We invite you to bring a photo of your deceased loved ones to add to our Christmas photo board," said Judy Fisher. Candles will be provided or feel free to bring your own. "You are welcome to bring nibbles and a drink and stay on after the candle lighting to share stories of the children and grandchildren and loved ones that will not be with you this Christmas." In case of inclement weather the venue will be the Middleton School Hall in Medlyn Street. For more information call Judy Fisher on 0402 599 001.
Summer Reading Club Time: Kids, get ready to join Parkes Shire Library Summer Reading Club for a fun time when "Curious Creatures" will take over your summer reading. The Curious Creatures theme this year will encourage eager young readers to discover new worlds as they explore and connect with creatures through reading and a range of activities at Parkes Shire libraries. The launch of Summer Reading Club at Parkes Shire Library is on Tuesday, 4th December at 4pm with a special time for readers to sign up, come and meet a special guest and surprise creatures and other fun activities. Children's Services Officers Debbie and Sandie are really excited about this year's Summer Reading Club. "Don't miss out on a really special start to our Summer Reading Club this year," said Sandie. Summer Reading Club (SRC) is for all young readers birth and up.