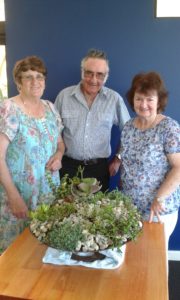 Garden Gnomes: The Parkes Garden Club celebrated 2018 with a Christmas lunch at the Station Motel last week and were entertained by Tapestry singing Christmas carols. The new 2019 President, Norma Garment welcomed everyone hinting at fresh and exciting garden events budding in the new year. Joyce Cole swept the floor with the various raffle tickets drawn on the day, while Robyn Burns won the lucky door prize – a gorgeous hand-crafted succulent garden display created by Kelvie and Faye Blackstock. Daphne Hutchins was the overall winner for 2018 in the monthly flower competition. Parkes Garden Club invites interested gardeners of any age to their first meeting in 2019 on Saturday, 9th March at 5pm at Lions Park for a BBQ.
Do You Share A Birthday With Elvis? Tuesday, 8th January 2019 will be Elvis's 84th birthday, and everyone is invited to celebrate with cake and free entertainment in Cooke Park at 10:30am. Bring along proof of your birth date to go into a draw to cut the birthday cake! Entertainment will be provided by Parkes' one and only Elvis Tribute Artist, Barry Green, and the fabulous Parkes Boppers dance group. Bring a chair or rug and be ready to be ALL SHOOK UP for Elvis 2019!
2018 Quota Wrap-up: At the November business meeting members dressed up in support of Loud Shirt Day raising $250 to support the Shepherd Centre's commitment to "give the gift of sound and speech to deaf children". Quota members took part in the White Ribbon Day march to raise awareness about domestic violence, while 50 emergency hygiene packs made by Parkes members were handed to the Parkes Police Station for domestic violence victims. The Club received eight $100 gift cards from the members of Quota International of Lower Clarence for distribution to drought affected farmers/families. A huge thank you to Michael and Peg Lynch (St Vincent de Paul
Society) who are distributing the cards. Quotarians have volunteered once a week at the Parkes Public School in partnership with other organisations for the Breakfast Program. As part of this year's Christmas party, gifts will be placed under the Giving Tree at Target as part of the Interagency – Combined Churches of Parkes annual program.
Quotarians thank all those who have supported fund raising throughout the year and wish all a Merry Christmas.