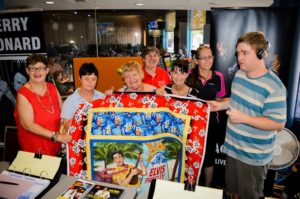 The Currajong Disability Services Sewing Group: sold about $500 worth of raffle tickets for the two unique Elvis quilts they made for the 2019 Parkes Elvis Festival. The quilts were on display in the foyer of the Parkes Services Club. Present at the draw on the Sunday of the festival were (L-R) Karen Willis, Jaime Nielsen, Jeanette Lovett, Cherie Lovett, Joanne Hodges, Reshelle Vandyk and Jay Crouch.
Four Days Of Double Demerits: With Australia Day tomorrow and the school holidays coming to an end, double demerit points will be in force for four days this long weekend from today (Friday) to Monday, 28th January (inclusive) for all speeding, seatbelt, motorcycle helmet and mobile phone offences. Chief Inspector David Cooper from NSW Police said: "While the road toll over the festive period fell from 31 in 2017/2018 to seven this year, we are still seeing some poor decisions made by drivers." There will be more Police on the roads this weekend increasing the chance of getting caught.
University Scholarship: Parkes Shire students doing their first year of full-time university studies this year are encouraged to apply for a Jack Scoble Scholarship. Supported by the Parkes Shire Council, Parkes Rotary Club, Parkes Musical & Dramatic Society and Parkes Bowling & Sports Club, the scholarship is worth $2,000 – $3,000 to
cover relocation and accommodation costs, or the purchase of a laptop and text books. Last year the scholarship was awarded to  Yasmin Potts and Madeline Swan. Scholarship guidelines and the application form are available on Council's website. Applications close on Monday, 28th January at 10am. For more information contact Marie
Wyatt, marie.wyatt@parkes.nsw.gov.au.
Water Restrictions: Level two water restrictions came into effect last week across the Parkes Shire after storage levels at  Lake Endeavour Dam reached the capacity trigger. Under level two restrictions, residents are only permitted to water outside the hours of 10am and 5pm with odd numbered households allowed to water on Tuesdays, Thursdays and Saturdays, and even numbered households on Wednesdays, Fridays and Sundays. Mondays will be solely dedicated for Council use to ensure our public parks and green spaces are maintained. Parkes Shire Council's Director Infrastructure, Andrew Francis said: "We will review the restrictions, however we expect them to remain in place until the end of summer." For more information about Level 2 water restrictions, visit www.parkes.nsw.gov.au