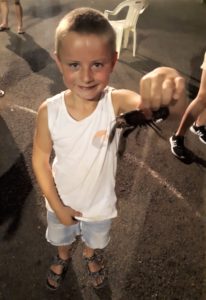 Yabby Races: There was a scarcity of yabbies last Saturday but the popular Australia Day Yabby Races still attracted 17 entries. The first three places were taken by Shailey Butt (first), – Tayah Reeves (second) and Mitchell Applebee (third). Nayte Reeves (pictured) was one of the racers.
Showcasing Parkes Talent: Artists and craftspeople can look forward to a new event in Parkes this year on the weekend of 16th and 17th March at the Parkes Bowling and Sports Club. The Parkes Quota Club and local artists and craftspeople, with the support of Parkes Shire Council, have decided to run an exhibition to introduce people to the huge variety of art and crafts in our community. The talent in Parkes includes potters, painters, artists, embroiderers, lace makers, milliners, quilters, leadlighters and many more. Art and craft of all genres will be on display, with demonstrations and sales too. There will be catering by Quotarians, a fabulous raffle with four prizes, including two quilts, a mosaic and a pottery water bowl. A limited number of tables are still available for exhibitors at $20 per site. Contact Rona on 0427 468 220 for further information.
Aboriginal Disability Services: Parliamentary Secretary for Western NSW Rick Colless announced grant funding of $158,000 to Orange Local Aboriginal Land Council to help them deliver services to Aboriginal people with disability under the National Disability Insurance Scheme (NDIS) in the Orange region. "The grant funding will allow them to establish a Support Coor-dination Service for Aboriginal people with disability that is accessible and delivered by local Aboriginal people." With the funding they will be able to accommodate 40 Aboriginal NDIS participants and deliver an additional 600 hours of service per month.
Youth Allowance: Students planning to study or start an Australian Apprenticeship this year are being urged to lodge their claim for Youth Allowance or Austudy now. The 2018-19 Federal Budget delivered a $53.9 million injection to allow more rural and regional students to qualify for Youth Allowance. "It will ease the cost burden for many families and in some cases will make further study affordable," said Deputy Prime Minister and Member for Riverina Michael McCormack. Youth Allowance provides financial assistance for eligible school leavers who wish to complete further study or training, while Austudy is for eligible students and apprentices aged 25 or older. Prospective students can submit a claim for Youth Allowance or Austudy up to 13 weeks before the start of their course or apprenticeship. Claims can be submitted online using their myGov account. For more information visit humanservices.gov.au/students.