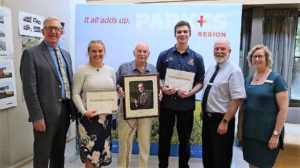 Jack Scoble Scholarships: Two Parkes Shire students, Riley Crocker and Georgia Goodrick, were presented with the scholarships. Riley, a former Red Bend student, will be studying for a Bachelor of Science degree at the University of Newcastle. He hopes to be able to contribute to scientific research. His particular interest is the development of new technologies to address the impact of climate change on rural communities. Georgia graduated from Parkes High School and was accepted into a Bachelor of Paramedicine at the University of Tasmania (UTAS), Sydney Campus. Georgia wants to be able to respond in emergencies to assist people in rural areas who are often without the level of care needed. Parkes Shire Councillor Bill Jayet said, "We had eleven outstanding applicants this year of which our panel chose to interview five."
Parkes Country Music News: This Sunday, 17th February at the Parkes Services Club at 1pm well-known Dubbo artist Rhonda Tomlinson will be the featured guest. The calendar of events this year is a busy one with the visitors from the South Coast CMA coming to the St Patrick's Day weekend of 16th and 17th March. Entertainment starts at 2:30pm on Saturday, and continues after dinner at 7pm. It's a 10am start on Sunday up to 2pm. All members, visitors and interested people welcome – the $5 entry fee on Saturday covers the whole weekend. There will be no muster in April, and the next event will be the annual Mother's Day muster in May. The January muster was very successful with popular entertainer Garry Hemming as guest artist. Other performers included Lindy Charlton,
Ken Chalker, Jock Charlton, Kevin Spice, Bruce Toole, Barry Green and the exciting new talent of 16-year-old Gracey Denham-Jones. Band duties were carried out by Ken Chalker, Pam Byrnes, Barry Green and Lindy Charlton.
Dig Deep For Farmers: Farmers in Queensland need help after the devastating floods last week. The losses of livestock, homes, equipment and more are enormous. With assessments ongoing some farmers have reported 100% losses of livestock. Up to 300,000 cattle are reported dead. Charity Drought Angels will be giving 100% of donations received now to farmers in Queensland. Send your support to: https://drought-angels.giveeasy.org/north-west-qld-needs-our-help
Competition: Fancy a family trip to the Dubbo Zoo? Enter our competition on page 7 to stand a chance to win a family pass!