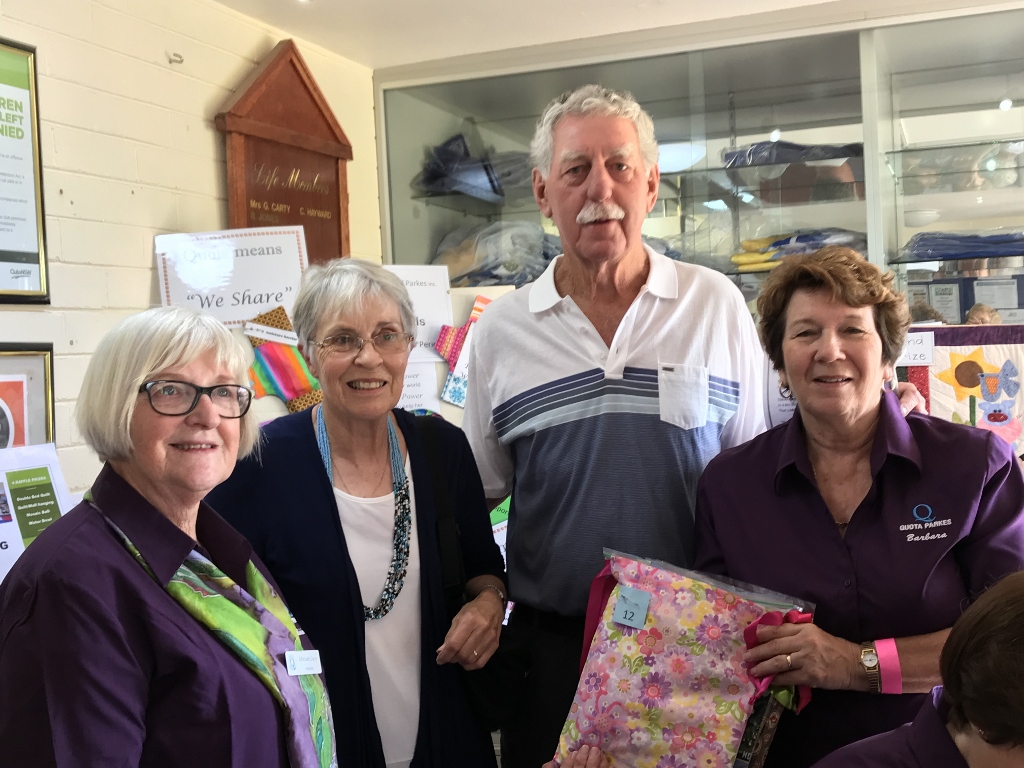 Quotarians in Parkes: have regular workshops to make washable feminine hygiene kits for girls and women in
countries like Timor Leste, Zambia and Uganda. Miriam Luyt (left) and Barb Thompson (right) were handing a supply of kits to Evelyn and Bill Shallvey (middle) at the recent Arts and Crafts showcase event in Parkes. Bill will be taking the kits to Timor Leste later this month.
Author Talk: Adam Courtenay, the son of Australia's best-loved storyteller Bryce Courtenay, will be at the Parkes Shire Library on Thursday, 11th April at 6pm with his new book The Ship That Never Was – an entertaining and rollicking account of the greatest escape in Australia's colonial history. In 1828, James Porter was on a ship bound for Van Diemen's Land. After several escape attempts, he found himself on Sarah Island, known as Hell on Earth. Few had escaped from Sarah Island but Porter pulled off an audacious escape. Adam is a Sydney-based writer and journalist who has had a long career in the UK and Australia. Come and enjoy an exciting new voice in the popular history genre. RSVP: 6861 2309, library@parkes.nsw.gov.au or in person by 9th April.
Free Mental Health Support: Drought affected communities in rural and regional  Western NSW can now access free mental health coaching support developed by Beyond Blue and delivered by Marathon Health. With many farmers, small business owners, workers and parents feeling the pressure, it is vital that people receive mental health support as early as possible. The NewAccess program was launched recently and is available to people over 16 years feeling stressed, anxious, isolated or struggling to deal with difficult work or personal life challenges. The program is available in person, by phone and via Skype and Facetime, making it easier for people living in rural areas to access quality support without long delays.
Call for board members: The Central West regional arts development organisation Arts OutWest seeks applications from people with a range of skills and backgrounds interested in becoming members of their board. They're looking to both the regional arts community and beyond the arts sector to fill three positions. Applicants must be based in the Arts OutWest region. Applications for board membership must be received by Friday, 3rd May. Details can be found on the artsoutwest.org.au website or call Tracey Callinan on 6338 4657.
Free Bus to Breast Cancer event: The Breast Cancer Network of Australia Forum takes place in the Dubbo Regional Theatre and Convention Centre on 4th of April from 10am until 3pm and includes free morning tea and lunch. Catch the free bus from Forbes, Parkes, Alectown or Peak Hill. For pick up times contact Dianne Green 0428
535 843.