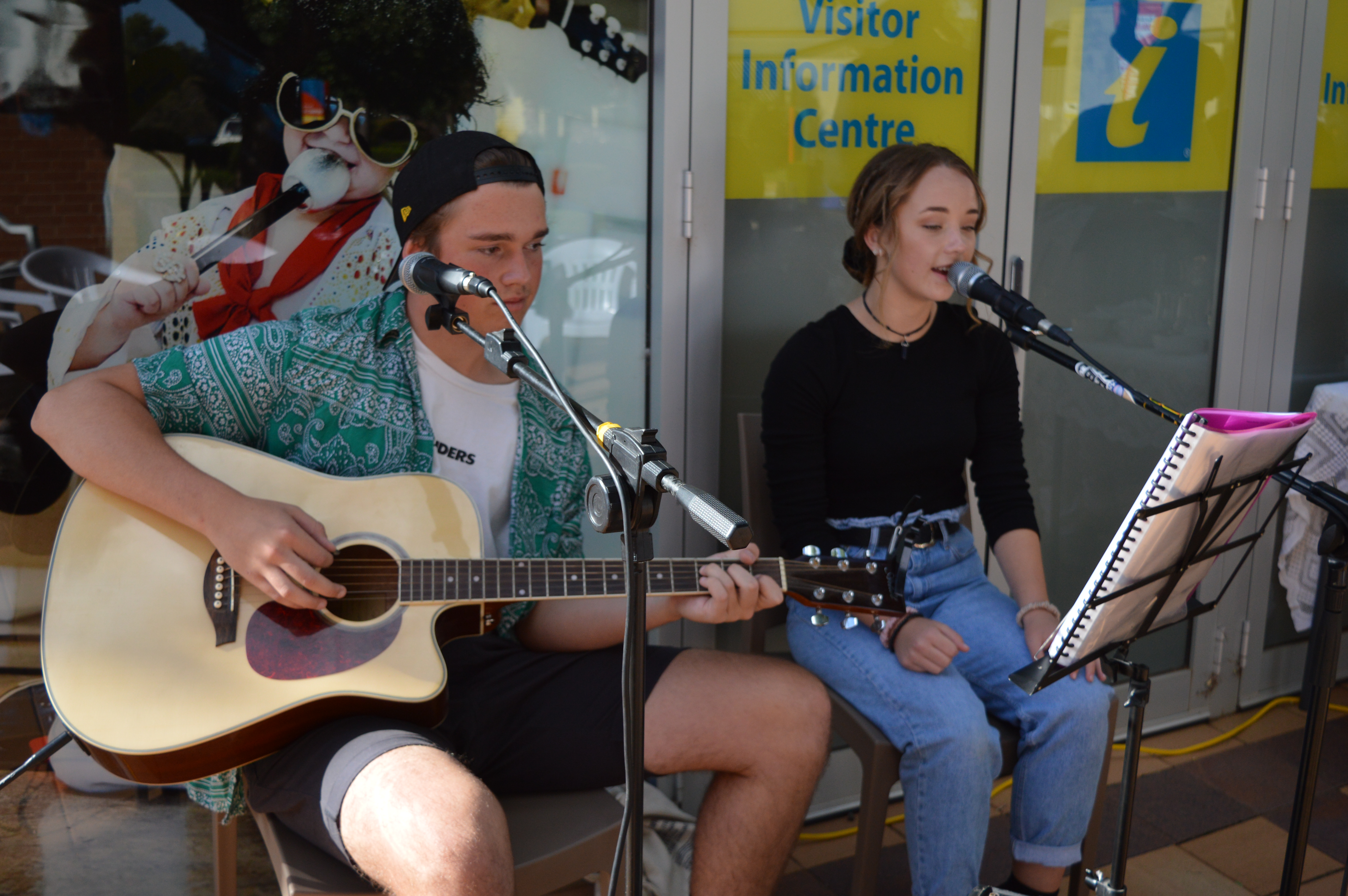 Marshall Beaton and Tianna Simpson: performed as My Sweet Melancholy for the very first time at the Parkes
Visitors Information Centre last Thursday when Greg Page launched his book on Elvis.
Winner: Congratulations to Cynara Jones who won tickets to the Sydney Royal Easter Show. Thank you to all the readers who took part in the competition.
Double Demerits: Double demerits will be in place for eight days during the Easter and Anzac Day holiday in NSW and the ACT. It starts today, 18th April; to Monday, 22nd April with a one day break before starting again on Wednesday, 24th April to Sunday, 28th April (inclusive). Double demerit points apply for speeding, seatbelt,
motorcycle helmet and mobile phone offences. Drivers caught using their phones during this period can expect to be hit with the fine as well as up to 10 demerits.
Magical Balloons: Over the next 10 days Canowindra will awake each morning to hot air balloons filling the skies for the Canowindra International Balloon Challenge. The official competition kicks off with the Key Grab on Sunday, 21st April. Balloons launch from a site of their choosing, with the aim to fly in and pluck a large key from the top of a flagpole for this spectacular event with a safety exclusion zone around the flagpole for spectators to watch the fleet approach and cheer the pilots on. The balloons will compete each morning and afternoon from 22nd April. The famous Cabonne Country Balloon Glow is on Saturday, 27th April at Canowindra Showground from 3pm lighting up the night sky.
Recycled Water: The final concrete pour for the new recycled water reservoir on Nash Street for the Recycled Water Scheme was completed recently. The project also includes the construction of three pump stations and a 12km purple pipeline. Several local contractors have been engaged in the four-week build. Magill Concrete Pumping, Hanson Concrete, and Parkes Concrete poured 400 cubic metres of concrete for the reservoir, while Westlime
and Agri West supplied materials and K&H provided geo technical expertise. The project is on schedule to finish in July, and the pipeline construction will be completed by Easter. Apart from delivering recycled water to sports fields and parks, Council is planning beautification works too. Potential projects include using topsoil from construction for a bush tucker garden on the corner of Eugowra Road and Henry Parkes Way. The $20.9m Recycled Water Scheme is jointly funded through the Australian Government and Parkes Shire Council.