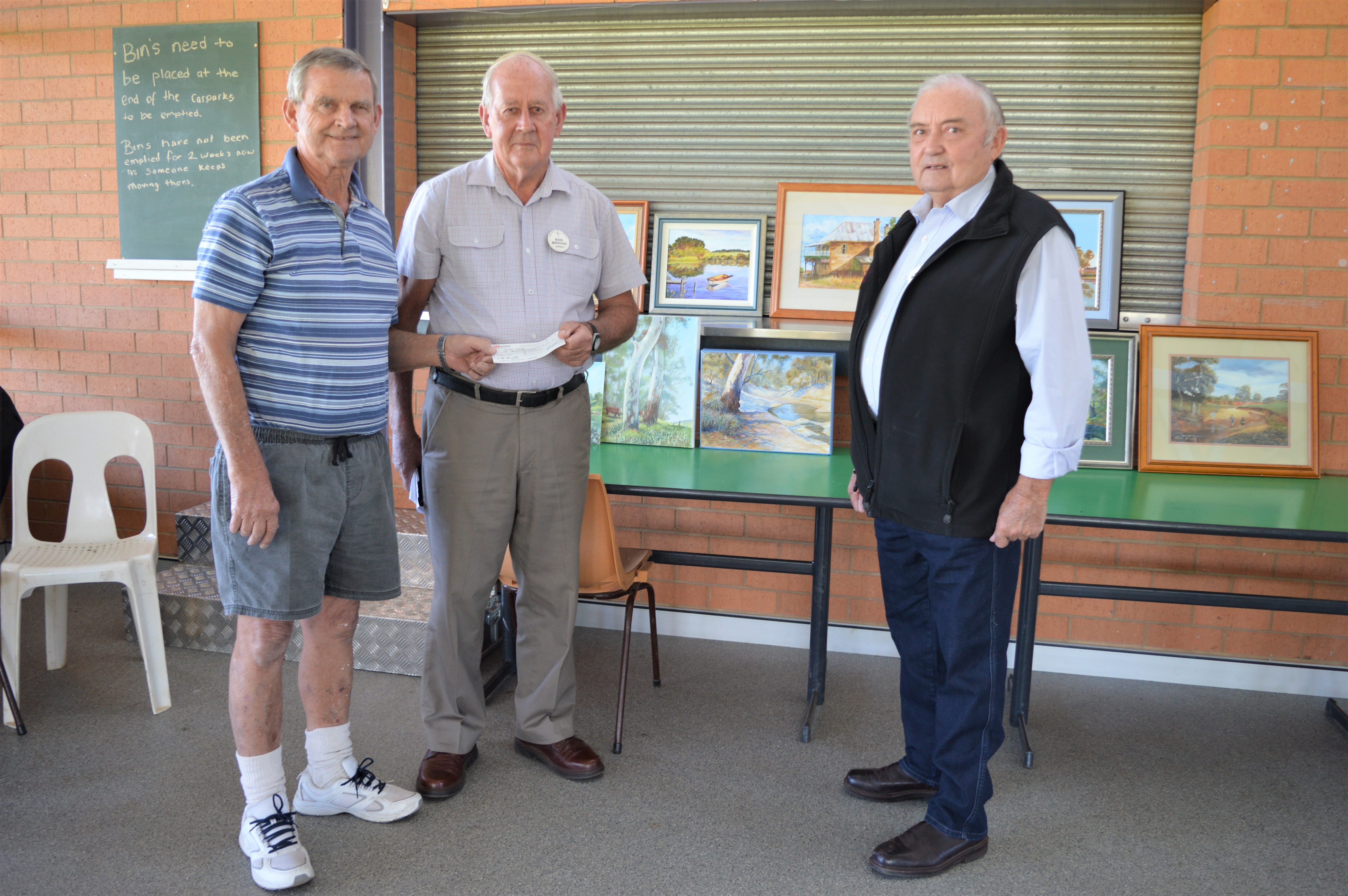 The Parkes Painting Group donated $1,000 to Parkes Legacy this week following its successful exhibition with an Anzac theme at the end of last month. The group chooses a different charity each year to support. Parkes Legacy President Bob Brooke accepted the cheque from Parkes Painting Group representative Kim Chambers (left) with Parkes Leagues Treasurer Geoff Boland (right).
New Law: Harsher penalties for NSW drink and drug drivers come into force on 20th May, with drivers facing instant licence loss for even 'low-range' offences. Under the new laws, low-range offences will be met with a $561 fine and instant, roadside three-month license loss. The same penalties will also apply to first-time 'drug presence' offenders. Beyond low-level offences (0.05-0.07 BAC), mid-range offenders (0.08-0.149 BAC) will be forced to fit an alcohol interlock in their cars. High-risk, repeat offenders face vehicle impoundment or licence plate confiscation.
Selling or re-homing a cat or dog? The NSW Department of Primary Industries is introducing new rules. From 1st July people selling or giving away kittens, cats, puppies or dogs, will need to include an identification number in any advertisements. The identification number can be either: a microchip number, a breeder identification number, or a rehoming organisation number. For more information visit www.dpi.nsw.gov.au/companion-animals
Election Profile – Michael McCormack: I am proud of what has been achieved since becoming your Member for Riverina and representing local communities with a strong voice in Canberra. Some of the projects I have delivered in the Parkes Shire include $1 million in Drought Communities Programme funding, $4.2 million to upgrade Clarinda Street and for a Cooke Park multipurpose centre, $8.725 million for Parkes Wastewater Treatment Plant and Recycled Water Scheme, $860,000 to widen The Bogan Way, $6,200 for a Remembrance Wall and garden at Bogan Gate cemetery, $8,890 for Trundle SES shed, $7,000 to renovate Tullamore Hall, $226,306 for CCTV for Parkes CBD, $1.55 million to upgrade Parkes Airport, $4,000 for 3rd Parkes Scout Group Hall toilets and $25,000 for Parkes Tennis Club.
Cash – Nelson – Denver: Direct from the USA, The Kings of Country tour returns to bring back the music of Johnny Cash, Willie Nelson and John Denver. Phillip Bauer as Johnny Cash has been recreating the sound and the look since 1985. His uncanny natural resemblance and stage presence leaves his audiences spellbound. Michael Moore is the world's leading Willie Nelson Tribute artist. Identifying with his music and style from an early age, Michael developed an affinity with Willie that has led to a life-long career. Ted Vigil as John Denver has just been awarded the Rising Legend award by the American Country Music Association. An accomplished drummer and singer, he has made a career performing as John Denver. (See ad below for show details.)
Competition: Enter our Taronga Western Plains Zoo competition on page 4 to win a family pass. Closing date for the competition is 30th May.