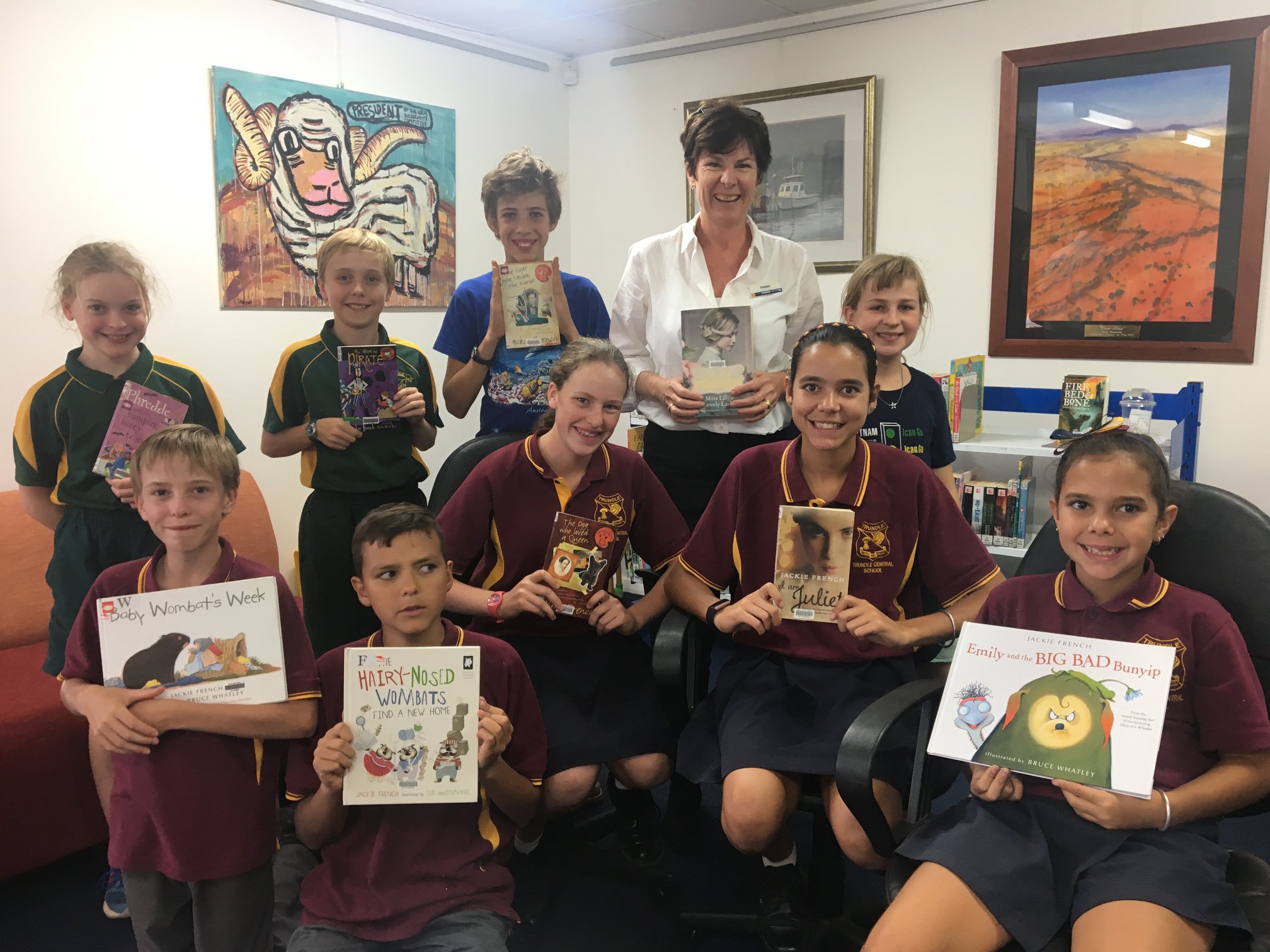 The Trundle Library Junior Book Club were all smiles after speaking with author Jackie French during a recent book club session. The children were all given the chance to ask Jackie a question. She was overwhelmed by some of the questions and how they were articulated.
Bogan Gate CWA News: Parkes, Forbes and Condobolin held their Annual Bridge Day at Bogan Gate on 7th April, with players from West Wyalong joining in. The CWA catered for everyone for the 12th time making it a thoroughly enjoyable day. President Marion McIntyre laid a wreath on behalf of the CWA at the local Anzac Day Dawn Service. Ten members attended the May meeting. International officer Heather Veal provided interesting information on the country of study this year, Papua New Guinea. Some members have started writing their life stories after attending a workshop at the Parkes Library. As this drought is still crippling the community, the CWA will be helping Bogan Gate and Gunningbland farmers and their families by hosting a free bbq night at the Railway Hotel in Bogan Gate on 29th June at 6:30pm. "We hope many will come to this night as it is very important in these times to mix with friends and all help each other," said the organisers. The next meeting is on Thursday, 20th June at 1:30pm at the hall. Visitors are always most welcome.
On Track For Better Rail: Member for Orange Phil Donato tabled a 10,000 signature petition in the NSW Parliament this week for improved rail services in the Orange electorate. The petition was originally created by the Orange Rail Action Group, who have been fighting with Phil for regional rail improvements. "The whole community has rallied behind improving our rail services in Orange and the broader Central West," said Phil when tabling the petition. "I will be asking for an early morning express passenger train direct from Orange to Sydney and return. In addition, I am fighting for rail infrastructure upgrades of the Main Western Line to support fast passenger and freight rail services, as well as early commissioning of the Regional Rail Fleet on the Main Western Line."
Restrictions Reminder: Level two water restrictions are still in place across the Parkes Shire. Under level two restrictions, residents are only permitted to water outside the hours of 10am and 5pm with odd numbered households allowed to water on Tuesdays, Thursdays and Saturdays, and even numbered households on Wednesdays, Fridays and Sundays. For more information about Level 2 water restrictions, visit www.parkes.nsw.gov.au
Last week was National Volunteer Week and many organisations, businesses and groups in Parkes acknowledged the generous contribution made by volunteers to keep our community vibrant and supportive. The time and effort put in by volunteers are vital to keep many services and events going, like the large group of volunteers (pictured above) for the annual Parkes Elvis Festival.