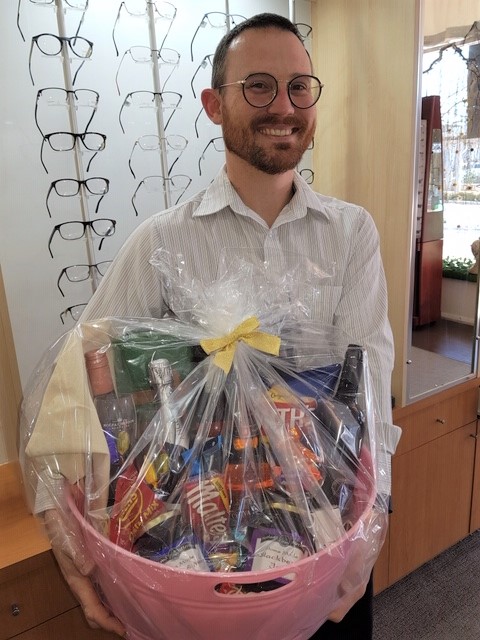 Congratulations to Hansen Optometrists on winning The Parkes Phoenix Footy Tipping Competition! Here is Jason Gould receiving the hamper sponsored by D'Aquinos on behalf of the Hansen Optometrists team.
Lower Clarinda Still Open For Business: Despite three major construction projects currently underway in the Parkes CBD, itis still business as usual for the shops and companies in lower Clarinda Street. The first sod has been turned on the Parkes Library Expansion project, the foundations for the new multipurpose centre in Cooke Park have been set, and the Main Street Revitalisation project is progressing along Clarinda Street. "These projects will ultimately improve the amenity of our Central Business District, and transform Lower Clarinda Street into a vibrant and pleasant public space," said Parkes Shire Mayor Ken Keith OAM. "I encourage residents to continue to support these businesses while these projects are taking shape." Work began on the Main Street Revitalisation Project in August where a new stormwater line is being installed. This will be followed by footpath, kerb and gutter refurbishment. Additional parking is now available along Dalton and Browne Streets to offset the restricted parking in the main street. Pedestrian detours will be in place to allow access to shopfronts as the construction works progress.
Winner: Congratulations to Michael Coates on winning a family pass to AirVenture Australia!
Competitions: Keep on entering the popular Parkes Phoenix Spring Photo Competition to win a $150 gift certificate! Send your photos on our Facebook page or email to editor@parkesphoenix.com.au by 31st October. With the school holidays around the corner, you can win a family pass to Questacon Canberra. Enter on The Parkes Phoenix website www.parkesphoenix.com.au by 25th September at 2pm.
Currajong Best In Show Again: The Currajong Disability Services Sewing Group once again scooped the pool at the 2019 Parkes Show. "We have some amazing people in our sewing group," said founder of the group and CDS support worker Deitre Jackson. Dearnne Callaghan again claimed overall honours for the second successive year, while Karen Willis was a bolt from the blue taking second. Shannon Miller and Cherie Lovett grabbed Highly Commended certificates for their wonderful pieces to complete a domination of the section for Currajong. "I am very proud of all of them and I know everyone at Currajong feels the same," said Deitre. The CDS Sewing Group relies largely on community donations to operate. "So many groups in the community have supported us and we are eternally grateful," said Deitre.