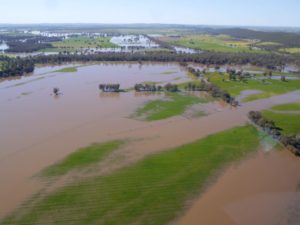 Construction on NBN begins: More than 5,700 homes and businesses in Parkes will soon have access to the National Broadband Network (nbn™). Crews have arrived in town to start work on the nbn™. Parkes Shire Mayor Councillor Ken Keith OAM said this was an exciting time for the region. "Parkes will soon transition into the digital future, bringing greater opportunities for residents and businesses to maximise their potential." More than 650 residents and businesses in the southern area of Parkes are already able to connect to the nbn™ through the
fixed wireless technology.
Council finalist in NSW Tourism Awards: Parkes Shire Council has been selected as a finalist in the Destination Marketing category of the 2016 NSW Tourism Awards for the development and implementation of the 'Parkes it all adds up' brand and associated campaigns. Now in its 27th year, the Awards celebrate over 100 finalists across 26 categories. Parkes Shire Mayor Ken Keith OAM said he was delighted with the news. "Marketing
the Parkes Shire as an attractive tourist destination and growing our visitor economy provides tangible economic benefits to our region, and it's great to see Council's investment is being recognised. "We are dually excited that the Parkes Elvis Festival has also received finalist status in the Festivals and Events category," said Cr Keith. The winners will be announced at a Gala Celebration at Luna Park in Sydney on 24th November.
Red Cross Tea Rooms: The Parkes Red Cross tea rooms reopened last Friday for its traditional morning and afternoon teas. The Red Cross Emergency Services teams are working in Forbes and Condobolin at the evacuation centres, and money taken at the tea rooms assists to finance this service – your support is most gratefully received. The tea room will be open every Friday from 11am to 3pm until the Christmas recess. Under new leadership the Parkes branch meeting date has been changed to the 3rd Tuesday of each month at 2pm. The next meeting is on Tuesday, 18th October in the Parkes Red Cross rooms in Church Street. Red Cross is the world's largest humanitarian organisation.
Canowindra Baroquefest 14th – 16th October: Four concerts celebrating the music of the great composers brought to
Canowindra by internationally renowned performers. The schools program starts on Friday, 14th October and will present an introduction to string instruments and concert performance to 170 children over three sessions. The official opening is at 5:30pm and at 7.30 pm Camerata Antica presents a concert of English baroque on old instruments. Entertainment continues over the remainder of the weekend. Full program details and bookings are available at www.canowindrabaroquefest.com.au or contact 0429 443 215.