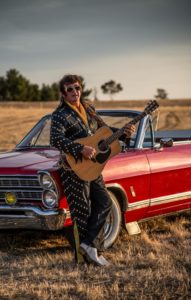 Parkes Elvis Festival Photography Competition: The competition is back next year after the resounding success of the inaugural event. Why not dig up old photos and help to celebrate the history of 25 festivals. It is open to all ages and each person can submit six images. There are four categories: smartphone, digital portrait, digital
black and white and digital colour. Great prizes are to be won, so go to www.parkeselvisfestival.com.au or phone 6862 6000 to get your form and submit your entry by 5pm on Monday, 14th November.
Glorious gardens: This Sunday is forecast to be a fine day, the perfect weather for getting out and enjoying some time in a garden… or two. Six beautiful private gardens will be open to the public between 10am and 4pm for the Parkes Open Gardens; a charity event run by Quota to raise funds for projects supporting women, girls, and the hearing impaired. Entry is $15. Pre-sale wrist bands and maps are available at Greenparkes Garden Centre. Enjoy
these splendid gardens in their spring glory, and indulge in a delicious Devonshire tea for just $5 at one of the gardens. For more information visit the Parkes Open Gardens Facebook page or contact Lynn on 68634667 or parkesquota@gmail.com
In Sickness, in Health … and in Jail: Australian author Mel Jacob will be at the Parkes Library on 4th November at 6pm to share what happened when her husband went to prison for two years. Mel is a journalist and scriptwriter and recently published her book: In Sickness, in Health … and in Jail. It is a funny, insightful and moving account of what happens to a close, loving middle-class family when the father is unexpectedly thrown in jail. Please RSVP on 6861 2309 or library@parkes.nsw.gov.au.
A helping hand: Parkes Shire Council is urging primary producers in the Parkes Shire affected by the recent floods to access assistance. The NSW Department of Primary Industries (DPI), in conjunction with Local Land Services (LLS), have developed an assistance guide. It is available at http://www.rdacentralwest.org.au/initiatives/
telecommunications/ Parkes Shire Council Mayor, Cr Ken Keith said there were various assistance measures in place. Contact the Local Land Services office on 1300 795 299 or access the full list of services and assistance at
www.dpi.nsw.gov.au.