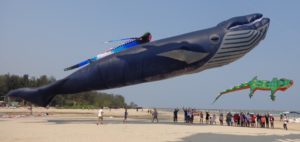 Kite Festival: The Reach for the Sky Australia Day Kite Festival will be on again next year. Bring your kite to the Northparkes Oval from 8 to 11am on Australia Day, 26th January. You can decorate your kite with Australian imagery, or even shape a kite like the Parkes Dish! Or you can ask Santa to give you one for Christmas. The festival is open to all ages
Cultural Awards: Do you know a person or group that has helped advance the arts in our shire? Someone who has achieved exceptional results in an examination, performance or exhibition? Parkes Shire Council invites you to nominate them for a cultural award. The purpose of the awards is to recognise, reward and encourage excellence in the performing, visual and creative arts and crafts. The awards will be announced at the 2017 Australia Day celebrations in Parkes. Nominations close at 10am on Monday, 5th December. Forms are available at www.parkes.nsw.gov.au or at any Shire Library. Contact Ellie ODonoghue or Sally Chapman, Grants Officers,
on 6861 2398 or ellie.odonogue@parkes.nsw.gov.au, sally.chapman@parkes.nsw.gov.au.
Australia Day awards: Do you know someone making a positive difference in the Parkes Shire? Nominations are open for the 2017 Parkes Shire Council Community Awards, recognising outstanding service to the community. To nominate someone, pick up a nomination form from Council, one of the libraries, or at the Parkes Visitor Information Centre. Or you can download a nomination form from www.parkes.nsw.gov.au. Return forms via email to events@parkes.nsw.gov.au, or to Council's Administrative Building, with supporting photos, articles or documents. Nominations close 10am on Monday, 5th December. Contact the Events Officer on 02 6861 2333.
Needlework & Pottery: Two exhibitions, showcasing the artistic talents in our Shire, are being held at Parkes Library and Coventry Room during November. A display showcasing local embroiderers goes on display at Parkes Library on 1st November. Members of the Embroiders Guild NSW, Parkes branch, will demonstrate their art on various days throughout the exhibition, which concludes on November 30. It has been a couple of years since the Parkes Potters exhibited in Parkes. On Friday, 25th November they are opening a wonderful exhibition of functional pieces, as well as, sculptural artworks. The exhibition will close at 4pm on Saturday, 26th November.