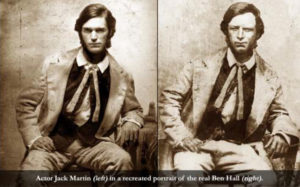 Win A Double Pass: The world premiere of The Legend of Ben Hall will be shown on 12th November at the Forbes Showgrounds. In attendance will be the Director Matthew Holmes (Twin Rivers) and actors Jack Martin (feature film debut), Jamie Coffa (TV's Gallipoli, The Lucifer King) and William Lee (feature film debut). You can win a general admission double pass for the premiere. Enter online at www.parkesphoenix.com.au and go to What's Hot.
Make sure to be in the draw by entering by 3pm on Thursday, 10th November.
Long lunch by the lake: Come and enjoy a two course lunch to help raise funds for a mobile Physio Touch machine for Forbes and Parkes Hospitals on Sunday, 13th November in Lions Park, Forbes at 12:30pm. The guest speaker is Dianne Green, McGrath Breast Cancer Nurse. Plenty of tickets still available at $80 per person including a gourmet BBQ and dessert provided by Peter Ashcroft, beer, wine and soft drinks, as well as entertainment by Adam Enslow. Bookings close on 9th November. Contact debbie@roylances.com.au.
Canowindra Christmas shopping evening: Are you stuck for ideas for Christmas presents and can't bear the thought of crowded shopping centres? Visit Canowindra on 26th November from 3 – 7pm and enjoy a friendly, relaxed shopping atmosphere with live music, while the kids can get their faces painted and take a photo with Santa. Canowindra business owner Liz Mitchell said the aim of the event was to remind people how much variety is available in Canowindra, and to challenge shoppers to think about shopping locally before going online or out of town.
Exercise equipment: Parkes Shire residents will soon be able to access state-of the-art exercise equipment for free with the construction of a new outdoor multi-station gym underway at Kelly Reserve and walking paths at Bushmans Hill. Mayor Ken Keith said: "Bushmans Hill and Kelly Reserve were identified by the community as popular recreation locations. This project will enable residents to better utilise these spaces for health and fitness pursuits." Parkes Shire Council successfully secured $50,000 for the project from the Department of Family and Community
Services. The project will further enhance and support the existing facilities at the two locations. Construction started last week, with work on the new pathways set to begin in the coming months.