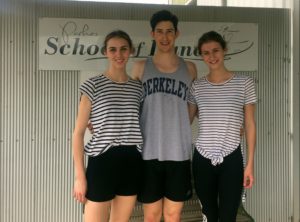 Ballet Memories: Many Parkes families travelled to Orange during the recent school holidays to see The Australian Ballet Regional Tour perform Giselle. What most people don't know is that members of the touring company were also travelling from Parkes to Orange for their performances. As the Bathurst 1000 was held on the
same weekend and there was hardly any accommodation available in Orange, Parkes hosted 30 dancers, as well as The Australian Ballet's Artistic Director David McAllister. In addition the dancing troupe had to keep up with their practicing schedule and rented the Parkes School of Dance (PSD) studios for a day. PSD received a Giselle poster signed by the cast, as well as a signed pair of pointe shoes worn by Dana Stephensen. She danced the role of Giselle during the Orange performances. Once framed, these special pieces will be on display in the School's foyer inspiring Parkes dancers of all ages!
Face lift: The Bogan Gate War Memorial has received a grant of $6,332 from the NSW Government to carry out important maintenance work. This grant will allow for the removal of lichen growing on the roof, which is damaging the sandstone. It will also go towards the replacement of the hall's guttering and downpipes, repairs to its windows, and improvements to its amenities.
A night at the movies: This is a rare opportunity in Parkes, but tomorrow night you can see Eddie the Eagle at the Parkes M & D Theatre at 7pm. It is the true story of Eddie Edwards, a ski jumper, who charmed the world at the Winter Olympics. Tickets are $15 per adult, $10 per child or $40 for a family, and available at the door. Supper is provided by the Quota Club. The funds raised go towards a range of charities the Quota Club supports.
Free concert: Music lovers will enjoy a free concert on 29th November at the Parkes Presbyterian Church on the corner of Gap St and Hill St at 7pm. The aim of the concert is to provide an opportunity for music students to share pieces they have been working on with others and to grow in their confidence in performing. The theme is Playing Together and will be focusing on the joy of ensemble music, choral music, duets, trios and the like. Solo pieces are also welcome. If you would like to join the fun night time concert, contact 0418 166 580 by Friday, 25th of November.