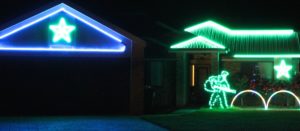 Tullamore Irish Festival: The festival has launched its new and improved event format for this year with a music concert focus. The event kicks off on Good Friday with Peter Byrne returning as Friday's headliner with band, Celtic Beat. Saturday's entertainment will be capped off with Irish favourite, Damien Leith supported by the outstanding Seltic Sirens. This is Damien's third time to Tullamore, having performed at the festival in 2016 and 2013. "Aside from the fantastic music, there'll be plenty to see and do including market stalls, food, face painting, rides, and unique Irish games to keep everyone entertained. The entertainment is free for kids all day on the Saturday," said Festival President, Paul Stanbrook. For information visit www.tullamore.org.au.
Kite Festival: The Reach for the Sky Australia Day Kite Festival will be on again on 26th January. Bring your kite to the Northparkes Oval from 8 to 11am. You can decorate your kite with Australian imagery, or even shape a kite like the Parkes Dish! The festival is open to all ages.
Learn to swim: A total of 345 local kids have successfully completed their Learn to Swim lessons in Term 4 last year. Over the course of the 10-week program, students learnt about water confidence, stroke correction and water and safety skills. More than 350 students have already signed up for the Term 1 program to start on Monday, 30th January. Classes are available every day, except Sunday. All Parkes Shire Council Learn to Swim program instructors are Austswim/ASCTA accredited, and aim to create a fun, friendly and safe environment for your child to Learn
to Swim. For more information, please contact the Pool Kiosk on 6862 6001.