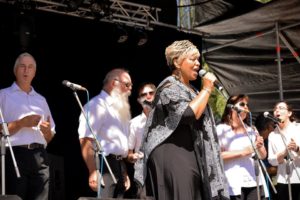 Digitising history: The Parkes Shire Library has started to digitise iconic images from the first ten years of the Parkes Elvis Festival. The Library team have been scanning and cataloguing photographs and memorabilia from Elvis Lennox's per- sonal collection. "We have been planning to build a digital local history collection to share with the community and wider world. Starting this big project with our Shire's major festival was an easy decision," said Shellie Buckle, Manager Cultural, Education & Library Services.
Elvis Lennox, Parkes' greatest Elvis fan, loaned his collection of photos and festival bits and pieces to commence the project. His photos capture the humble beginnings of the event, including the Elvis Wall of Fame first ceremony for Johnny O'Keefe, first street parade, first look-a-like competition and original concerts.
You are invited to contact the Library if you have photographs from the first ten years to add to the collection. Over the coming months the Library team will add to the collection, bringing online photographs from 2003 onwards.
The collection is available for viewing via the Library's online catalogue, library. parkes.nsw.gov.au/libero/WebOpac.cls
Bogan Gate morning tea: Bogan Gate CWA will be holding a diabetes awareness morning tea on Wednesday, 8th February at 9.30am at the Bogan Gate Memorial Hall. Dr Madhu Velagala, Diabetes Educator, will be the guest speaker. Men and women are invited to learn more about diabetes. A representative from Diabetes NSW and two nurses will do blood checks at the event. Entry by gold coin donation. RSVP to Ros on 68641023 or 0415 665 925 by Monday, 6th February. Any enquir- ies to President Marion McIntyre on 0427 643 233.
Did you know? The record number of visitors at the 25th Elvis Festival meant the staff at the Royal Hotel pumped out more than 1,600 meals and countless beverages, in costume, over the five days!
Gospel Service: Thousands of people attended this year's Elvis Gospel service. According to co-ordinator Neralle Cheney, the finale had people rushing to the front of stage and all over the dance floor in a cel- ebration of music and dance. "People were dancing in their chairs."
She said the response from people afterwards was overwhelming saying it was the best ever, brilliant, wow, polished and pro- fessional and people wishing it was longer.