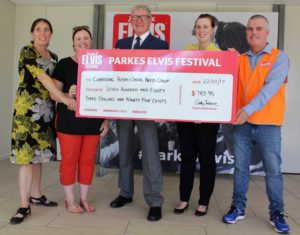 Helping hand: Parkes Elvis Festival and John Holland have teamed up to raise money for the Central West Autism and Special Needs Awareness Group (CWAS- NAG). During the 2017 Festival a total of $783.95 was raised through the John Hol- land-sponsored Elvis Photographic Com- petition and Exhibition.
Seniors Festival: Neighbourhood Central is hosting the 2017 Seniors Festival with a busy program: 6th March local concert at the Parkes Bowling Club with sing-a- long with morning tea and lunch – $10; 8th March Bollywood comes to Parkes with a movie morning at Neighbourhood Central – The Best Exotic Marigold Hotel – $5; 9th March Central West Elders Olympics in Or- ange – $5. Tickets and bookings at Neigh- bourhood Central, 80-82 Currajong Street Parkes. For more information call 6862 3757 or 1300 810 771.
Footy Tipping Competition: With NRL season almost upon us, The Parkes Phoe- nix has some spots left in our Footy Tip- ping Competition. Whether you are one of our readers or an advertiser, you can join in the fun and be in the running to win a major prize. Entry is $100 for the whole 26 weeks and you will receive ad space in the Phoenix to the value of $150 to promote yourself, your charity or your business. Contact sales@parkesphoenix.com.au to secure your spot.
You Get Shaving, Australia!: Are you shaving your head, or do you know of someone doing it this March, 16 – 19th to help beat blood cancer for the World's Greatest Shave? We would love to hear from you! Contact us on editor@parkes- phoenix.com.au
Contemporary Art: Parkes Library is hosting an exhibition from western NSW artist Gavin Coote from 1st to 24th March. Gavin is also a journalist in a country town, but has always integrated some form of creativity into his life. He spent his early years drawing tractors, harvesters and windmills that dotted the landscape of the farm where he grew up the first half of his childhood. "The Australian landscape is something that has incredible power over my creative work, as is the case with any artist who has the utmost privilege of liv- ing in this beautiful country!" said Gavin. Please RSVP on 6861 2309 if you would like to attend the official opening at 6pm on 3rd March. Gavin will be in attendance to have a beer and talk art.