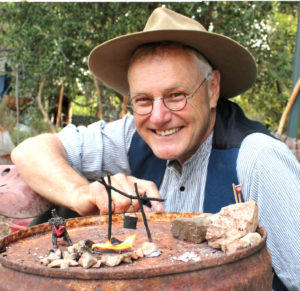 The Loaded Dog: On Thursday, 20th April at 6pm the Splash Theatre Company will perform Henry Lawson's The Loaded Dog at Parkes Library.
This is in celebration of Henry Lawson's 150th anniversary. He is one of Australia's best short story writers and was born on 17th June 1867. The Splash Theatre Com- pany is travelling NSW, Victoria and the ACT performing his most popular comic story, The Loaded Dog.
The explosive yarn about three gold miners and their overgrown pup, Tommy, will entertain. "The Loaded Dog has plenty of action and humour to engage and enter- tain audiences aged 5 to 95," said Shellie Buckle, Manager Cultural, Education & Li- brary Services.
Please book your chair for the performance with Parkes Library on 6861 2309 or library@parkes.nsw.gov.au. The event is free and families are welcome.
Here's your chance to fly: Plummeting towards the ground at 180km an hour from 14,000 feet above. The Phoenix is sending a reporter to see what all the fuss is about. Skydiving is a popular bucket list item and there is a good reason why – the adrena- line rush of free falling is but one. Adrena- line junkie or not, skydiving is a chance to overcome your fears and feel free. Places still available this weekend to Skydive in Dubbo with Skydive Oz. www.skydiveoz. com.au/skydive-dubbo/
MP celebrates Parkes Elvis Festival founders: Member for Orange Philip Do- nato last week celebrated the contribution of Bob Steele OAM and Anne Steele OAM in the NSW Parliament's Hansard as the founders of the Parkes Elvis Festival in 1993.
"Ensuring that the efforts of locals in my electorate are recognised for years to come through the NSW Parliament, is im- portant," Philip said.
In his Private Member's Statement, Philip recounted the history of the festival from its small beginnings in 1993 and paid tribute to the couple saying: "Bob and Anne Steele might not have envisioned such growth nor the widespread interest it would generate around the globe, but that's exactly what they've achieved.
I wish for Bob and Anne to be recognised for their vision, enthusiasm and all of the many hours expended growing this iconic fixture, for without their zeal, we'd not have the blossoming event it is today." Anybody with a story of an unsung hero in the Orange electorate should contact Philip's office with details for consideration.